SiteGround Review : Still the Best Shared WordPress Host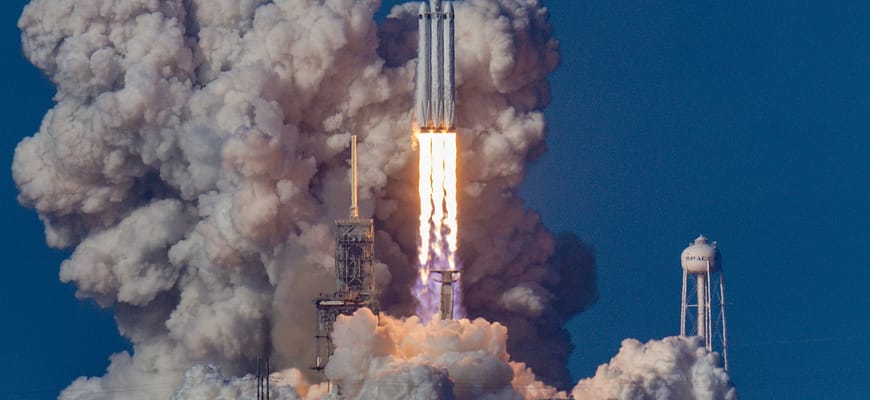 Trying to decide whether SiteGround is the right place to host your WordPress site? We've had this SiteGround review published for over five years now, updating it as needed. Currently, this review was completely rewritten in February 2021 to cover recent feature and pricing changes.
Collectively, our review is based on over half a decade of hosting with SiteGround. Yes, we've included affiliate links in our review because we generally believe that SiteGround is a quality host. However, we'll be sure to tell you whether or not it's right for you, because there are situations where you might do better with a different host.
A Quick Summary of Our 2021 SiteGround Review
If you're in a rush, here is the quick summary:
In 2021, SiteGround is still the best shared WordPress host. It has top-tier performance, excellent support, and the SiteGround team is constantly pushing out new features to improve their product. I've personally got at least a half-dozen (modestly trafficked) sites on a single SiteGround GrowBig account that I've been happily renewing for years.
If you look at the objective numbers in the shared WordPress hosting space, SiteGround is at the top of the pack:
| | |
| --- | --- |
| Hosting Company | Rating / 100% |
| SiteGround | 89% |
| GreenGeeks | 88% |
| DreamHost | 78% |
| Namecheap | 74% |
| A2 Hosting | 72% |
| InMotion | 68% |
| GoDaddy | 55% |
| Bluehost | 55% |
However, two big price increases have also made SiteGround one of the most expensive shared hosts. (The category is mostly favored by those more interested in minimizing costs.) That price change has made me a little more tempered in my basic love for SiteGround, but has not taken them out of my favorite-host spot. SiteGround is clearly moving up-market in the last fews years, and may continue to do so. While you're getting a best-in-class shared hosting product, you're now also paying a premium for it over cheaper shared WordPress hosts.
This means two things:
Some users might be better off with cheaper shared hosting from another quality provider, even if it's not quite as good as SiteGround.
The gap between SiteGround and premium managed WordPress hosts is smaller, so some people might be better off just paying a little extra to get an even better quality product from a host like Kinsta.
In our SiteGround review 2021 edition, we'll go deeper into where these conclusions come from. We'll cover SiteGround's pros and cons and then help you decide whether SiteGround is the right host for your situation.
SiteGround Pros
In 2021, SiteGround still gets a lot right with its WordPress hosting…
Excellent Performance (The Thing That Really Matters)
Performance – AKA how quickly your website loads and how reliable its uptime is – is the most important thing when choosing a WordPress host.
In terms of performance for the money, it doesn't get much better than SiteGround. They've earned Top Tier or Honorable Mention status in Review Signal's objective benchmarks in just about every year:
Put simply, even though it's shared hosting, you can still achieve excellent page load times with SiteGround. And overall, it's tough to find another shared host that beats SiteGround when it comes to performance.
Above-and-Beyond Performance Tools
One of the reason that SiteGround performs so well is that they give you lots of built-in tools to optimize every part of your WordPress site's performance. In fact, you can implement almost every single WordPress performance best practice just using the free tools that SiteGround gives you.
There are two parts to optimizing WordPress performance with SiteGround:
The built-in SuperCacher caching solution (the full system is only available on GrowBig plan and above)
The free SG Optimizer plugin (available to all SiteGround customers).
SuperCacher has three levels of caching:
NGINX Direct Delivery – speeds up static files (images, CSS, JavaScript, etc.)
Dynamic Cache – this implements WordPress page caching at the server level and eliminates the need to use your own caching plugin.
Memcached – this caches results from database queries in server RAM. You may or may not want to use this depending on your site.
Then, you also get the SG Optimizer plugin, which has two high-level functions:
It lets you control caching behavior from your WordPress dashboard. For example, you can clear your cache, exclude certain content/users from caching, etc.
It implements a bunch of WordPress performance best practices. You can basically think of it like WP Rocket, but something that you get for free just for being a SiteGround customer.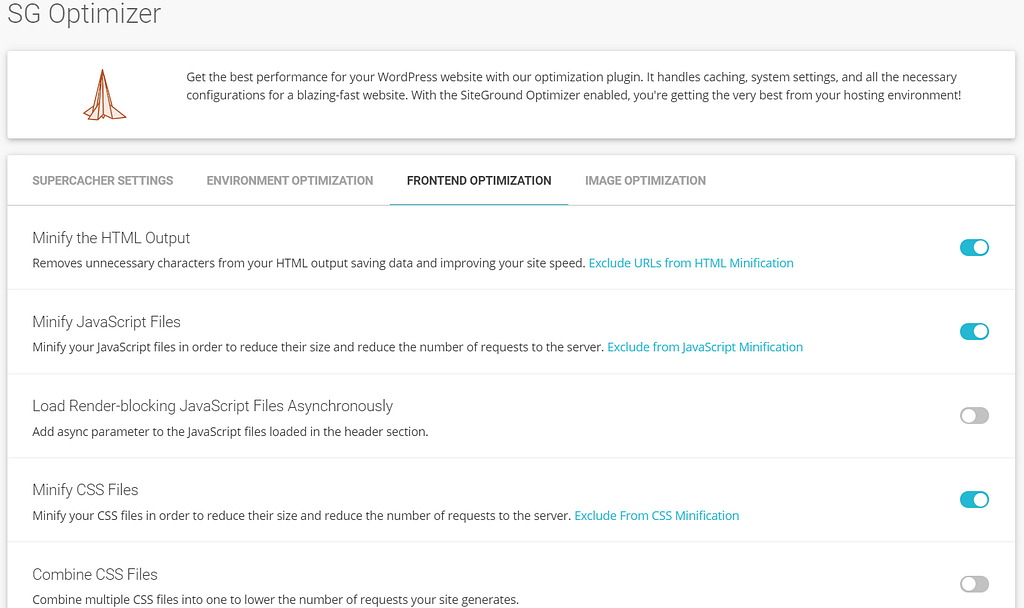 Some of the many optimization features that you get with SG Optimizer are:
Gzip compression
Browser caching
Database optimization
Code minification
Code delivery optimization (e.g. no more render-blocking JavaScript)
Google Fonts optimization
Image optimization (no need to use a separate image optimizer plugin)
It also has a unique option that lets you enable full-page caching on Cloudflare, which is a great tactic to get blazing-fast global load times.
Useful Features to Make Your Life Easier
Beyond the useful performance features, SiteGround also just generally builds in a lot of other features to make your life easier, especially on the GrowBig plan and above.
You'll get:
Automatic WordPress updates.
Automatic daily backups and on-demand backups.
Staging sites. A staging site is a copy of your site in a safe sandbox that lets you test changes and updates. When you're happy with the change, you can "push" your staging site live.
Free one-click SSL certificates via Let's Encrypt.
Real-time web application firewall to protect against even zero-day exploits.
Free email hosting.
Basically, you can focus on growing your site because SiteGround will help with a lot of the basic security and maintenance.
A User-Friendly Custom Dashboard
In 2019, SiteGround launched its own hosting dashboard called Site Tools. This area makes it easy to manage your hosting account and all of your sites. It also gives you access to a variety of useful tools for each site (including the features from the previous section).
For example, if you want to create a new WordPress install, you can use the simple WordPress auto-installer tool:
Then, for each WordPress site, you'll get a dedicated site tools area to perform actions such as:
Installing an SSL certificate and forcing HTTPS
Creating staging sites.
Viewing/creating/restoring backups.
Etc.
These areas are all available in a sidebar that's logically divided into categories that are easy to navigate:
You can also "pin" certain tools to create your own custom dashboard optimized for your workflows.
If you're a newbie just getting started with your first website, the custom dashboard creates a really user-friendly experience. And if you're an advanced user, you'll still get access to more advanced tools such as creating your own server Cron jobs or integrating with Git for deployments.
Quality Support When You Need It
To be honest, SiteGround's support isn't quite as good as it once was. However, it's still some of the best support you'll find in a shared host, which makes it tough to quibble too much here. It's like going from an A+ to an A-.
If you have an issue, SiteGround will fix it… though you now might have to wait for a ticket to get it done if the front-line staff can't help.
Overall, you can get 24/7 support via live chat, phone, or ticket, though SiteGround will definitely use its interface to push you towards its text-based support solutions rather than phone calls.
Constant Improvement
Finally, one of the biggest things that differentiates SiteGround from other shared WordPress hosts is that SiteGround is always pushing to improve its product.
It's hard to remember a year (or even half a year) where SiteGround didn't release some new feature to improve performance, simplify your life, etc.
Just going back to 2019, you have the following releases/improvements:
In 2021 and beyond, you can expect that SiteGround will continue to evolve and improve its product.
SiteGround Cons
Here are the things that hold SiteGround back from being the no-brainer choice for most people that it was in the past…
The Prices Keep Getting Higher…and Higher
Simply put, SiteGround has gotten a lot more expensive than it was when we first wrote our SiteGround review.
SiteGround had one big price increase in 2018. Then, they had another big one in 2020.
Here's how the full price of the GrowBig plan has changed…
At the beginning of 2018, it was $14.95 per month:
At the beginning of 2020, it was $19.95 per month:
And now in 2021, it's $24.99 per month:
That's a hefty price increase over just a few years and way above the industry standard. In fact, many other hosts haven't increased their prices at all over the same time period. This causes two things:
If you were an existing SiteGround customer, you might be frustrated seeing your bills keep jumping.
SiteGround is now a good bit more expensive than most other shared WordPress hosts (more on that later).
To be fair to SiteGround, these years have also brought a ton of improvements (as you saw above). So they aren't just raising prices without giving you anything in return. But still, the inflating prices are frustrating and it's hard to know if this trend will continue.
You Can't Lock in the Promo Prices for Three Years Anymore
Like a lot of shared WordPress hosts, SiteGround uses an aggressive promotional pricing strategy to draw you in, before reverting to its "regular" prices after your first renewal.
This catches a lot of users by surprise, but it's how pretty much every shared host does it.
What's more, if you know how to play the game, these promo prices gave you the opportunity to get a really good deal. As long as you knew you were choosing a quality host, you could pay for three years upfront and lock in those cheap promo prices for a full three years.
This made the bite of SiteGround's price increases a lot less painful because you could always push that problem three years down the road.
The keyword there is could – because you cannot do this anymore.
Now, SiteGround only gives you the best promo price for a one-year term. If you want to pay for two years, you'll still get an "ok" deal, but it's not as good. And if you want to pay for three years upfront, the price will be even a little higher.
Here are the monthly promotional prices based on your billing term for the GrowBig plan:
One year – $9.99
Two years – $14.99
Three years – $17.49
In the past, you would've been able to lock in that $9.99 price for all three years.
No More cPanel…If You Need cPanel
cPanel has been a web-hosting industry-standard for decades now. For the uninitiated, it's a standardized interface that many web hosts use to do common tasks: set up email, set SSH keys, and way more. SiteGround has phased-out cPanel on most of their hosting, in favor of the in-house tool they call "Site Tools" we discussed above. We like Site Tools, now that we're over the early learning curve. So this isn't necessarily a con for all users because most people, especially new users, a better-served with the new Site Tools dashboard.
However, if you are a person that likes cPanel and has built cPanel into your workflows, you might be disappointed that SiteGround switched to a custom hosting dashboard.
Should You Use SiteGround in 2021?
SiteGround is still the best shared WordPress hosting in 2021. You get excellent performance for the price, a custom dashboard with useful features, quality support, and confidence that SiteGround will continue to add new features to make your life easier and your site load faster.
However, most people can't ignore pricing. And when you factor in the two recent price increases, SiteGround is no longer the automatic no-brainer choice that it used to be.
If you read our SiteGround review a few years ago, we would've said that SiteGround fits right in the same market as other cheap shared WordPress hosts such as Bluehost and HostGator and all those other EIG hosting companies. SiteGround vs Bluehost for the same price? There's not even a debate there.
But now, SiteGround is definitely a step above the entry-level shared WordPress hosting space. It kind of sits in the middle, with "cheap shared hosting" on one side and "premium managed WordPress hosting" on the other.
And here's the thing:
You can still find solid companies in that cheap shared WordPress hosting space. Definitely not the EIG hosting companies like Bluehost and HostGator – but there are still adequate options in that price range such as GreenGeeks or DreamHost.
Are those hosts 100% equal to SiteGround? No. But they are good enough for beginners just looking for an affordable and reliable way to create a website. In that situation, picking one of those options might be a better choice than SiteGround.
On the other hand, if you have a mission-critical site and you want the best of the best, you might want to go straight to Kinsta, which is the top-rated WordPress hosting according to a bunch of objective data. Kinsta is more expensive than SiteGround, but the difference isn't that large anymore, especially for a single site.
So When Is SiteGround the Right Choice in 2021?
SiteGround is the best choice if you've outgrown your cheap shared hosting but you're not quite ready to make the leap to managed WordPress hosting.
For example, if your site is starting to increase its traffic to a few hundred visitors per day (or more), that might be a sign that it's time to invest in something a little better than your entry-level shared hosting. The improvements in performance and reliability will have a meaningful return at that level in terms of making your site more successful.
Or, SiteGround also makes a great option if you need to host multiple established websites. Managed WordPress hosting for multiple sites can get expensive fast – with SiteGround, you can still get "unlimited websites" while also getting features and performance that are much closer to a premium managed WordPress host than other shared hosts.
To sum up:
Total newbie trying to keep costs down? Maybe start with GreenGeeks or DreamHost. They're not as good as SiteGround, but they're good enough at a much lower price.
Want the best for your site(s) but not yet ready to jump to managed WordPress hosting? SiteGround is a great option. You get better performance and features at a cheaper price than managed WordPress hosting. Again, it's still the best shared hosting product out there.
Want the best of the best? Open up your wallet and pay for Kinsta. If you only have a single website, the price difference between SiteGround vs Kinsta really isn't that large anymore.
Which Is the Best SiteGround Plan?
If, after reading our SiteGround review, you've decided that it's right for your situation, we recommend choosing at least the GrowBig plan.
Beyond the increased storage and traffic, there are a few reasons to choose the GrowBig plan over the cheaper StartUp plan:
Support for unlimited websites
Server-level page caching, which makes your site load faster "for free"
Staging sites—very convenient for making changes to your site
On-demand backups
Basically, you should almost never purchase the StartUp plan because it cuts out a lot of what makes SiteGround better than other shared hosts.
On the other hand, most people don't need to upgrade to the pricier GoGeek plan unless your site has more than the ~25,000 monthly visits that the GrowBig plan is designed to support.
Read our full article that compares SiteGround's hosting plans to learn more.
Still have any questions about SiteGround or our SiteGround review? Thoughts on how they've changed over the years? Leave a comment!
---