Get the latest in WordPress development in your inbox, every Tuesday
Our newsletter is a convenient, quality weekly digest of the latest in WordPress development and here on WPShout, in your inbox once a week.
Join over 3,000 WordPress developers who get the latest in WordPress development sent every Tuesday.
We'll never spam you or sell your email address to anyone—but we will definitely send you an email you can truly look forward to and enjoy every week. You can unsubscribe any time (but we're confident you'll never want to).
We can't wait to have you join our community.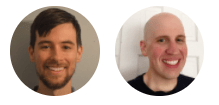 – Fred and David
By the way, here's what people say about the WPShout newsletter…
Fred and David do a consistently awesome job writing about WordPress. Their resources are always useful and when they do a deep dive into a topic, I always learn something from their perspective on it. Apex Site.

– Josh Pollock, WordPress developer
I love the detailed tutorials on WPShout. I can't tell you how many times I've Googled a question and WPShout has the answer I need. There's something for developers of all levels on their site – do yourself a favor and bookmark it!

– Carrie Dils, Entrepreneur and WordPress developer
WPShout is a consistent resource to the WordPress development community. Whether or not you're someone who's just starting out, someone who's looking for references to other articles, or looking for solid material to help you grow in your skillset, both Fred and David do an excellent job of always providing for the readers.

– Tom McFarlin, WordPress developer
I still remember the time I read my first WPShout article. I was so excited because I'd never stumbled on a site that covered programming topics like Fred and David did. They weren't scared of talking about technical stuff and they made it accessible! That's why I think it's one of the most useful WordPress resources that you'll find on the web.

– Carl Alexander, WordPress developer
"I don't often need WordPress development problems solved, but when I do I turn to WPShout. Fred and David's easy-to-read and accessible style makes the site a fantastic resource for developers and non-developers (like me) alike."

– Kim Doyal, "The WordPress Chick".
---