Which is the Best SiteGround Plan? The WordPress Shared Hosting Comparison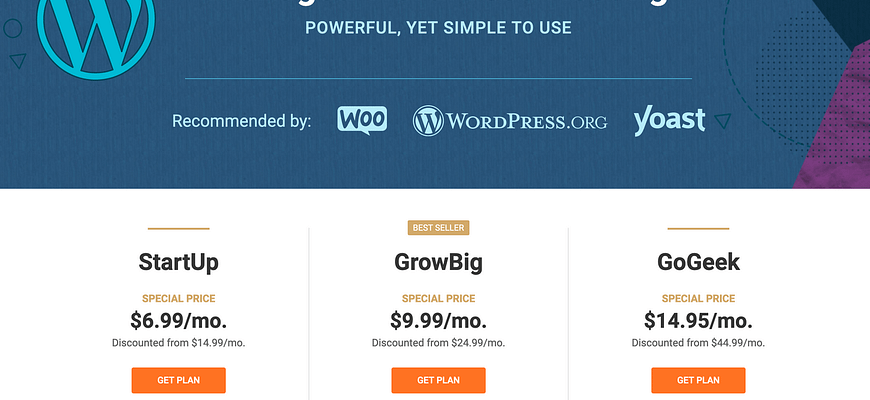 WPShout was happily hosted on SiteGround for years, from about 2015 to 2020. We recently switched this site over for the slightly higher performance possibilities of a (significantly more expensive) Kinsta account. But I'm still the proud owner of a SiteGround GoBig account for Low-Key Coffee Snobs, and a number of other personal sites. That's why we're offering you this SiteGround plan rundown today.
I also frequently recommend SiteGround for WordPress hosting to our readers, my friends, and my clients. For shared WordPress hosting, I just plain think SiteGround is the best choice for most people. (Here's our complete SiteGround hosting review, if you're still wondering if they're the right host for you.)
So which is the best of SiteGround's shared hosting plans for you? Here's a quick summary of which SiteGround plan is right for which projects:
StartUp: While we love SiteGround hosting for WordPress, we find that StartUp is lacking in both the features and speed most need. Avoid StartUp.
GrowBig: For sites that don't get a ton of traffic, GrowBig combines great value, features, and speed. GrowBig is the best fit for most sites.
GoGeek: For WordPress developers wanting advanced features, or getting more traffic than GrowBig supports (>25K visits/mo), GoGeek is fast, feature-rich, and geek-friendly. GoGeek is great but pricey, especially on renewal.
If that's all you needed to know: great, that was easy! Go buy now, and help us keep the lights on here at WPShout by clicking my affiliate link 🤓 For lots more details on the contours on SiteGround's shared hosting plans before you make your choice, please keep reading. 🙂
Understanding the Differences Between the Three SiteGround Plans
For the less-hurried, this guide should help you pick the best hosting package from the three they offer. The variety is good, but the choice isn't easy. In simple terms, you'll want to consider how much you care about performance, and which features matter to you. Those two things will really determine which SiteGround managed hosting plan is the best fit for you.
There is a noticeable price difference between the three SiteGround hosting packages (especially on renewal_, so it's important to pick the one that is best for your WordPress site. Pay for too much and you're flushing your money away. Pay for too little and your site will be unnecessarily slow and annoying while administering.
SiteGround's three shared hosting plans are called StartUp, GrowBig, and GoGeek. And, smartly, I've listed those for you as they ascend the price-and-feature-ladder. 🤓 So, as you might guess, you get the most great SiteGround hosting features with GoGeek, and the fewest of them with StartUp. StartUp is the cheapest Siteground shared hosting plan. Their middle tier, which I'm currently happily paying for is called GrowBig.
GrowBig is the most popular plan for good reason. It's the plan that offers the best value for your money. GoGeek plans are what we'd recommended for users who need staging features, have lots of traffic, or are doing ecommerce (WooCommerce, say). We'll get into how to choose among the SiteGround hosting packages, but first let me explain the features and limitation of all the three hosting plan.  We'll wrap up with our basic ways to choose the best SiteGround plan for your needs.
Common SiteGround Hosting Plan Questions
While there are lots of details for each of the SiteGround shared hosting packages we'll cover in this article, there are also a lot of commonalities. Let's start with these common questions about how to choose your SiteGround package.
Does SiteGround hosting use cPanel?
No. In the last few years, new SiteGround plans have not included cPanel access. They replaced the valuable functionality of cPanel with a suite they call "Site Tools." Site Tools is basically an administration interface that is custom to SiteGround. (It's quite similar to dashboards you might be familiar from folks like WP Engine.)
Until about 2019, all SiteGround accounts were largely administered with the cPanel set of tools where were are common across most "shared" hosting plans. This toolset is both very powerful, but also a little confusing and intimidating. For precisely that reason, SiteGround has now replaced it on all their accounts with Site Tools.
Does SiteGround host WordPress sites?
Yes, absolutely, SiteGround is one of the best hosts for WordPress sites. Like some companies (WP Engine always come to mind, as does Flywheel), SiteGround offers "Managed WordPress hosting." This is a change from prior times, when SiteGround was generally considered "shared hosting." Because it now longer offers the suite of cPanel tools (the way I think about what differentiated "managed WordPress hosting" from "shared hosting"), I think it's now valuable to say that SiteGround offers some of the best "managed WordPress hosting" in the business. Because GrowBig and GoGeek accounts (StartUp just got this feature too 🥳) offer a customized caching layer, SiteGround WordPress hosting is often just as performant, if not more so, than most other WordPress hosting options, especially cheaper "shared hosts."
Why pick SiteGround to host your WordPress site?
In a word, "support" is why we love SiteGround. SiteGround has some of the best, more responsive and knowledgable support experiences in the industry. On top of that, in our incredibly deep and diverse experience, they're also among the best value for your money. But it's the nearly unbeatable support experiences in both phone and email we love. No long wait times, no upsells. Just a great product that has just what you need. If you'd like to know a whole lot more, here's our full review of SiteGround hosting.
Does SiteGround Shared Hosting include HTTPS/SSL?
In short, yes all SiteGround plans include unlimited free, awesome Let's Encrypt DV certificates. These are exactly what we use on WPShout, they're trusted by all the browsers I've ever heard of. The price of these certificates is $0. And they've included them in all of their WordPress hosting plans.
Our Definitive Guide to the Best SiteGround Plans for Shared WordPress Hosting
Before we go into detail about the difference between SiteGround's GrowBig, GoGeek & StartUp packages, have a look at their breakdown of their plans. This will give you a high-level overview of features that you will be getting with each SiteGround shared hosting package:
You may notice above that every SiteGround package says "~____ Visits Monthly." Unlike other WordPress hosting plans like WP Engine (which actually measure and bill you based on site visits), you can sort of ignore this. All SiteGround plans support theoretically unlimited visits. They offer these numbers to help you ensure that you don't have more traffic than the performance of their hosting will support, not so they can charge you more if you accidentally go over your "limit."
SiteGround's StartUp plan is Not Great, but is a cheap WordPress hosting start
StartUp is the cheapest hosting plan offered by SiteGround, and one we find a little hard to recommend (much as we love SiteGround overall). The hosting plan starts at only $6.99/month (and is $14.99 per month on renewal), and you can host at most one site in this package. Becuase of that, I'd really only recommended this for you if you're just planning to host one site, and don't expect it to get a lot of traffic or need many server resources.
Other plan details:
Maximum database size is 500MB (plenty for WordPress in 90% of cases)
No more than 150,000 inodes (essentially, files) per account
300,000 CPU-seconds limit for any given calendar month
So why do we not consider this SiteGround StartUp plan to be their best? I'll let my business partner, Fred, put it in his own words:
I really don't like the lowest SiteGround tier: slow, thinly-featured, and only one website. I don't recommend it under any circumstances. If you'd have trouble affording the next tier up, that may be a good cue to look at something like Squarespace, as self-hosted WordPress is too difficult to do well on an absolute shoestring budget.
Fred would still recommend the SiteGround StartUp hosting plan over GoDaddy, Bluehost, HostGator, and lots of other truly disappointing hosts, but that still doesn't make it an appealing choice.
The GrowBig SiteGround Hosting Package (their most popular plan) is the Best Plan for Most
GrowBig is the plan that I (David) picked for my hobby projects. My GrowBig plan has plenty of capacity for LowKeyCoffeeSnobs, Thoughtful Code, and a few other sites I run on the side. This is the most popular package on SiteGround, as it offers all of their great features including free Let's Encrypt SSL certificates & SuperCacher technology. Under this package, SiteGround keeps 30 backup copies of your website. I love these "rolling" backups, but as a cautious backup nut, I still recommend you use a backup plugin for WordPress. 🤓
This package costs $24.99/month on renewal, and is a bargain of $9.99/month on signup. Grab this package at that great price using our affiliate link.
The GrowBig hosting plan from SiteGround is best for any medium traffic website, but handles many lighter-traffic ones. I'm personally hosting at least four WordPress sites on my GrowBig hosting account. And I strongly recommend you enable SuperCacher, as it is (1) great, (2) going to speed up your site, and (3) included with this package.
SiteGround's GoGeek Plan is the Most Powerful of Our Plan Comparison, and Has Cool Features
While this isn't an exhaustive GoGeek hosting plan review, we'll cover the essentials.
The GoGeek hosting plan is SiteGround's highest-tier shared hosting package. It's what we use here at WPShout, because we love all the nerdy features. And the plan easily handles the substantial amount of traffic we get on WPHierarchy.com.
Aside from the ability to handle our traffic, our GoGeek SiteGround hosting plan comes with one-click staging for WordPress (and Joomla sites). This server is also PCI compliant which you'll need for e-commerce websites like those running WooCommerce. This package rocks for high-end sites which needs to be on shared hosting, and need more resources. The disk size for GoGeek is 40GB.
GoGeek-exclusive features to consider as reasons to upgrade here from GrowBig:
1-click Staging sites for WordPress (we find this a bit cludgy, but it totally works)
Free on-demand backup activation (for the paranoid like me, who want to hit it before making a change to the site)
Git (version control software 🤓) is included
MORE POWER — this is the realest sales point, but most sites that get less than 1000 visits a day (which is most of them), get along well on GrowBig plans
This hosting package costs $44.99/month on renewal, but you can get it now for $14.95/month using our link. That renewal price is steep, but you'll be able to host way more traffic than you would on either a SiteGround GrowBig account, or a comparably priced plan from, say, WP Engine.
What's the Best SiteGround Hosting Plan for Your WordPress Needs?
To wrap up our SiteGround plan comparison, a few thing to think about when making your hosting package decision. How will you know know what SiteGround plan is right for you? As we've covered, each SiteGround hosting tier has different disk space, estimated traffic capacity, and a different feature list. You'll mostly want to think about nerdy features, and approximate traffic your site gets. From our experience at WPShout, here are our recommendation for you:
If you're running only a static or HTML site, use SiteGround's StartUp hosting plan. While it does WordPress, we've had some disappointing experiences with this hosting.
If you're running a WordPress site or two, use the GrowBig SiteGround hosting plan. It handles more traffic than a lot of sites will get. This is why I feel it balances the features and prices trade-offs best for most people.
If you're running WooCommerce, a lot of different WordPress sites, or need staging, choose the GoGeek plan.
Get Started with SiteGround Today!
StartUp, GrowBig, GoGeek: Are you clear on which SiteGround shared hosting plan is right for you? Let's get rolling!
Still unsure if SiteGround hosting is even right for you? Read our full review to get a clearer sense. It goes into exhaustive detail about SiteGround's support, SiteGround monthly prices, and a whole lot more:
SiteGround Review 2021: Still the Best Shared WordPress Host
---