WordPress as a Social Network and Twitter clone: Advanced Uses of WordPress
Day three of [ad] continues, with a look at WordPress as a social network and Twitter site.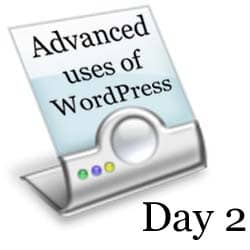 Day 1: WordPress as a Tumblelog
As I mentioned the other day,  the multi-user version of WordPress is called WordPressMU. Installing WPMU is something I've covered before here on [wp], so check that out for details how to install it. With WordPress MU installed, there's an excellent plugin you can add called BuddyPress. Again, I've written about how to install BuddyPress and get to grips with it before, so check out those tutuorials.
Whilst we're not strictly using WordPress here, it's close enough, and the possibilities for expansion are huge – just take a look at the Telegraph's blogs – all run on WordPress MU.
<meta name="generator" content="WordPress 2.7.1" /> 
Interestingly, though, they're only running 2.7.1!
Making a Twitter clone with WordPress
Twitter clones are all the range these days, and, thankfully, there's a WordPress theme that does the job of Twitter clone. Prologue, or P2, allows you to make your own Twitter clone on any WordPress install – just set up a new install of WordPress, click 'Add New Themes', do a search for P2, install it and activate it. And you're done.
With P2 installed, the subscribe to comments plugin is pretty darn useful and you might want to restrict access to only those who are logged in.
Concluding
Just a (comparatively) quick post today and not a mention of custom fields! It would have been longer, but it occurred to me halfway through writing the post that I'd already written what I wanted to say! Join us tomorrow to find out how to use WordPress as a review site.
---