WordCamp Glossary: 30+ Terms You Should Know When Attending #WCEU 2023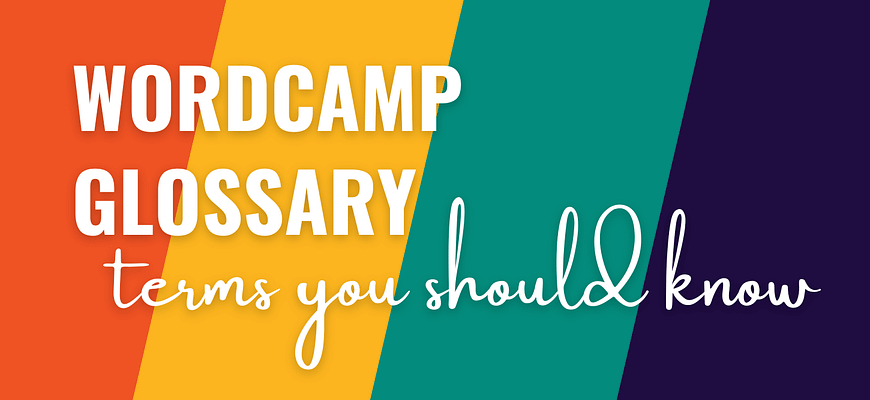 WordCamp Europe (WCEU) is upon us again, which means our WordCamp glossary of terms will help you navigate all the conversations if you're a 'newbie.' Europe's most prominent WordPress gathering is in Athens, Greece on 8–10th of June. As such, you don't have long to learn all the 'lingo.'
Because WPShout is an official Media Supporter for WordCamp Europe 2023, we're going to give you a full WordCamp glossary of terms you'll want to know. There's a lot to get through, so let's begin! 😎
1. WordCamp Europe / WCEU
This is the perfect place to start! WordCamp is a community-driven event that brings together WordPress enthusiasts, developers, and users. It provides a platform for learning, sharing knowledge, and networking. This year's event is in Athens, Greece. However, there have been recent events in Portugal, Serbia, Germany, and more.
2. Community
The WordPress community is everyone who works with it, regardless of their involvement. At WordCamp Europe, you will be just one among thousands in the WordPress community.
3. Attendee
This is you! Technically, everyone at a WordCamp is an attendee. However, you can also consider some to be in different groups. We'll look at some of the main ones next.
4. Venue
No, WordCamp Europe doesn't just rock up to a parking lot of crank the speakers! The events spare no expense to find the most suitable venues to host thousands of the WordPress community. Often, these are in a central location, with plenty of transportation, amenities, and hotels in the surrounding area.
This year, WordCamp Europe's home will be the Megaron Athens International Conference Centre.
5. Registration
For some workshops and the Contributor Day, you'll need to register. There's a typical half an hour session at the start of each day to register for the various workshops. However, for Contributor Day, you'll need to register before the WordCamp.
6. Badge
One way to tell others that you're going to be at WordCamp Europe is with a badge. There are a number of virtual badges you can download, all for specific roles at the event:
This lets you begin your WordCamp networking early via social media.
7. Contributor
In short, a contributor to WordPress means that you participate in its active development. This could be technical, such as bug hunting, theme and plugin development, or working on the core WordPress code. However, there are plenty of non-technical contributors too. For instance, you can contribute to documentation, translating WordPress, or even help to organize and run a WordCamp.
8. Contributor Day
Contributor Day often kicks off WordCamp Europe – this year on the 8th of June. The focus is to further WordPress in some fashion, through creating documentation, fixing bugs, and much more.
Contributor Day is a great way for new attendees to learn about WordPress and its community. Plus, you'll get to give back to the platform, too.
9. Swag
The most important part of WordCamp Europe! We're kidding, of course, but the merchandise – 'swag' – you'll get is often so plentiful that you might need to pack an extra bag.
You'll always get an on-brand WordCamp t-shirt, but you'll find every booth has plenty of giveaways. You can find stickers, phone grips and cases, plushies, garments, and plenty more. You'll never need to buy clothes again!
10. Schedule
If you can do it at a WordCamp, it's likely on the schedule:
You'll see the sessions split over two days, across three tracks and two workshops tracks. However, there are other informal happenings that are part of the schedule too, such as the Wellness Track and WP Connect.
11. Speaker
No session could exist without its speaker. These are the people who deliver the presentations and workshops you'll build your weekend around. However, WordCamp Europe attracts the biggest and brightest names in the community to deliver sessions.
This year, we have a number of 'heavyweight' names in WordPress. The likes of Carrie Dils, Jonathan Bossenger, Tycho de Valk, and even head honchos Matt Mullenweg and Josepha Haden Chomphosy.
12. Track
'Tracks' help to address specific audiences throughout the weekend. WordCamp Europe 2023 will offer three different tracks, but also a dedicated Wellness Track.
This is to help the WordPress community look after themselves in a healthier way. For 2023, the Wellness Track will run regular yoga and Tai Chi sessions, and take a hike up Mount Lycabettus in the centre of Athens!
13. Session
The next term in our WordPress glossary is 'sessions'. These make up the activities, presentations, workshops, and more for each day. You can find the entire schedule for the weekend on the dedicated WordCamp Europe microsite.
14. Keynote
Most conferences have keynote speeches and speakers, and WordCamps are no different. This is generally a presentation of what WordPress will be like in the future, and in recent years, Matt Mullenweg has handled the keynote session.
This year, the keynote speech is at the last session of the weekend with the title of Variations on a Theme: 20 years of WordPress. However, in the past, there have been lunchtime speeches that include a Question and Answer session, and even a summertime State of the Word.
15. Lightning talk
If you don't fancy sitting through an hour or two of a presentation, you may enjoy a Lightning Talk better. These are short presentations – often around 15 minutes – that still deliver a punch. This year, the afternoon sessions for track one are all Lightning Talks focusing on Artificial Intelligence (AI) and running a WordPress website.
16. Panel discussion
Aside from individual presentations, you'll also find a handful of panel discussions across the different tracks and days. These will follow the same subject matter as the individual track focuses, but this time, you'll get to hear from multiple WordPress professionals at once.
17. Q&A session
One of the key elements of WCEU is interaction. Each presentation will often end with a short Q&A session to provide insight into what you've heard, or even to pick the brains of the speaker. This is also the case for the keynote session!
18. Session slides
Most speakers will use slides to help visualize and add further context to the session. However, if you want to relive the session again, you'll often find the slides available. For example, take Adrian Roselli's Prototyping Accessibility talk from WCEU 2018.
19. After Party
WordCamp Europe always hosts an end of event after party. For WCEU 2023, everyone will sport their official WordCamp t-shirts and head to central Athens to enjoy a night of live music and celebration. What's more, it's free for attendees!
20. Networking
WordCamp is known for its networking opportunities. This could be the designated open networking sessions that top and tail the day, or one of the many invite-only networking parties. Regardless, there will be plenty of chances to meet your fellow attendees.
21. WordPress Meetup
Side events and meetups are a great way to make new WordPress friends away from the main networking tracks. You'll often find details of these through personal invites, social media, and company blogs. However, depending on the event, you may need to register it, as is the case with WCEU 2023.
22. WP Connect
Most sessions are passive, in that you attend to listen to a speaker. However, the WP Connect sessions encourage an open discussion around a central topic.
The WP Connect space hosts a number of sessions over the two days of WCEU 2023. Topics include Five for the future, attending in-person events in a post COVID-19 world, and more.
23. Workshop for kids
Contributor Day also hosts a dedicated WordPress workshop, only for younger users. This will teach kids how to set up a WordPress website, choose a theme, and add content. Best of all, the site is one they can access after, too!
24. Quiet zones
WordCamp Europe is a fully inclusive and accessible event for all attendees. One way that it caters to those with specific religious or neurodiverse needs is with Quiet Zones. These won't allow for phone calls, and you'll also find quieter areas at the after party for those who need a breather.
25. Organizers
Your typical WordCamp needs hundreds of organizers to make sure the event runs smooth. There are 12 different teams for WordCamp Europe 2023, and the most important are the Global Team Leads. These help co-ordinate the entire process of organizing WCEU.
26. Volunteers
Everyone who helps to set up, organize, run, and speak at WordCamp Europe does so as a volunteer. There is always a Call for Volunteers before a WordCamp begins. This is one factor that keeps WordCamps accessible for all, and the cost of a ticket low.
27. Call for Speakers
One of the reasons WordCamp presentations can be engaging is that all speakers are there out of choice, rather than payment. Each year, WordCamp Europe puts out a Call for Speakers around six months before the event, to give everyone time to organize and write a full presentation.
28. Sponsor
Hosting a WordCamp costs serious dough, which means sponsorship is important. Fortunately, WordCamp Europe attracts some of the biggest names in WordPress to support the event. Jetpack, SiteGround, Google, Elementor, and many more huge names have dedicated booths at the events as well as lending support to the WordCamp itself.
29. Sponsorship packages
There are five different sponsorship tiers available to potential supporters: Super Admin, Administrator, Editor, Author, and Small Business.
Each comes with an array of perks, such as an increase in booth size, greater brand awareness, and free tickets. However, you could look to spend anywhere from $2,700–90,000 for the privilege – big bucks for a big cause!
30. Code of Conduct
The WordCamp Europe Code of Conduct is a set of rules and guidelines that every attendee must abide by. It helps to keep the action and interactions civil and enjoyable for the entire weekend. It also briefly outlines elements such as the WordCamp's inclusivity policy, and what to do if you need to contact someone.
31. Wapuu
If you've ever wanted to meet Pikachu at WordCamp, this is the closest you'll get to that! Wapuu is the WordCamp mascot, and there are unique designs created for all major WordCamps.
WAthena is the mascot for WCEU 2023, holding an amphora and wearing the Goddess Athena's helmet!
Wrapping up 🏁
WordCamp Europe is an exciting event that attracts thousands of WordPress users, site owners, developers, and more. The 2023 edition is in Athens, Greece on 8–10th of June. What's more, if this is your first time, our WordCamp glossary will bring you up to speed on some of the words and turns of phrase you'll hear during the event. We hope to see you there!
Do you think we need to add a term to our WordCamp glossary? Let us know your thoughts in the comments section below!
---