How to Connect UpdraftPlus to Dropbox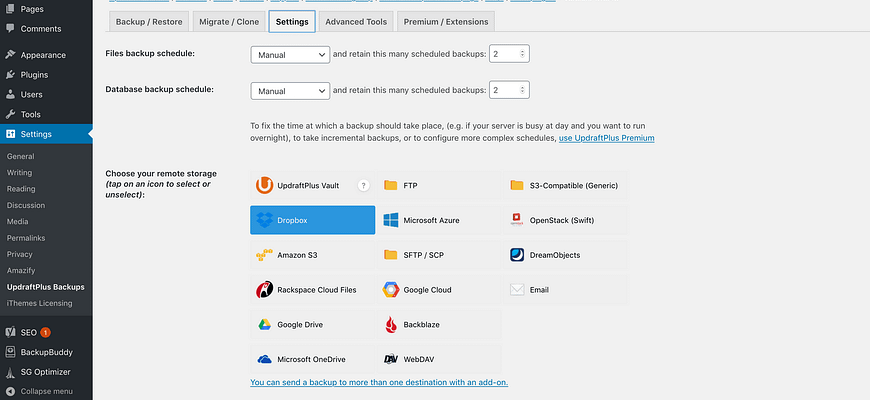 WordPress sites have lots of good backup options. But if you're looking to save money on file-storage (and you already have a Dropbox account) I can't recommend UpdraftPlus much more highly. It is quick-to-configure and very reliable as a place to keep a backup of your WordPress site. In this Quick Guide we'll cover the steps to connect UpdraftPlus to Dropbox. Let's get to it!
Configuring UpdraftPlus for Dropbox Storage, the video
In this video I set up a site that I'd never used with UpdraftPlus before to connect to my Dropbox account.
For those who prefer a written tutorial, I've got you…
Connect UpdraftPlus and Dropbox, step-by-step
1. Install & Activate the UpdraftPlus plugin
As usual to install WordPress plugins, you can simply navigate from your site's WordPress admin area to the "Plugins > Add New" page. Here you're able to quickly search the WordPress.org repository (where UpdraftPlus is available from) using the search box in the top right. In the search box, simply type updraftplus and the top-left result should be the one you want. Click the "Install" button, wait a bit, and then click the "Activate" button (which replaces the "Install" one). Now the plugin is on, but we're not done.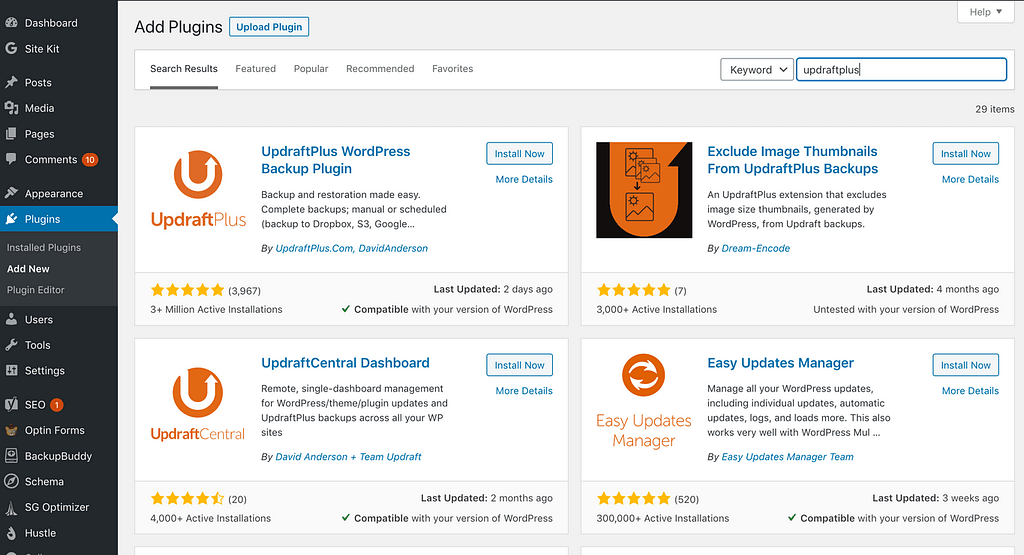 2. Navigate to "Settings > UpdraftPlus Backups"
Now we've got to configure the plugin to back-up our WordPress site. (Sadly, it is necessary because the plugin can't do magic ;p)
To configure (more settings than you'll need to worry about) you'll want to got to "Settings > UpdraftPlus Backups" in your WordPress admin sidebar. You'll notice that this page has a number of "Tabs". We'll configure Updraft to connect to Dropbox using the "Settings" tab. You should see something like this:
3. Connect to Dropbox
When you select "Dropbox" on the Settings screen, Updraft Plus will prompt you that it needs to be configured. For me, (I think because I was already logged in to my Dropbox account) it was as simple as clicking the "Complete Setup" button on their very-orange screen.
At this point, you've connect UpdraftPlus to Dropbox. The next step it to set up a backup schedule you like. You'll find those settings just above where you selected "Dropbox." While lots of options make sense for different types of WordPress sites, I think "Daily" for "Database backup schedule" and "Weekly" for "Files backup schedule" is a good starting point.
May you never need your backups!
---