WPShift Launches!
After months and months of working on it, WPShift has now launched! I'm really delighted to be able to say that 🙂
WPShift. What's That?
It's a new premium themes site, created by myself and Alex Cragg. We've created an awesome first theme, ShiftNews. It's a magazine style theme powered near exclusively by widgets so you can create your own look just by dragging and dropping. We've got four widgets for showing off your posts including two featured content sliders, a traditional blog look and a column widget so you can fit your posts side by side. They're all powered by our awesome widget control panel so you've got immense control over where your posts go: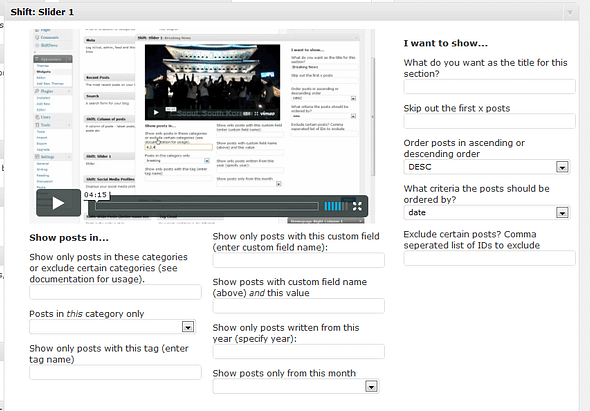 We didn't stop with the posts widgets; we've built in widgets for Twitter, Flickr, Adsense and your social media profiles too.
Sounds cool. What else does it do?
We've got a massive options page (click the image below to enlarge) and what I think is the most options you'll need for getting images from posts. That means you can just upload and image and it'll grab it, it can find images in posts, it can find images using the post thumbnail feature and you can use custom fields (so you've got backwards compatibility with old posts). Of course, this is al then resized dynamically (thanks to Ben).
We've got just about everything we think you'd want – huge colour changing options, numerous built in colour schemes, post and page templates and all the features you'd expect from a quality theme – threaded comments and the like, optimisation for load times, optimisation for search engines, our own custom styles for popular plugins (such as PageNavi and YARRP); that kind of thing.
Speaking of videos, they're quite literally everywhere in the theme – we've embedded them in HD in our custom widgets and we've also got one stuck in the options page. That means if you're stuck then you can find out how to use it without digging through piles of documentation. If you'd prefer to look through the documentation, you're welcome to too – there's over 2000 words of it explaining everything I could think of in solid detail. Of course, we've also got a support forum where you can come and ask your more pressing questions.
What does it cost?
We've kept it at the lower end of the market (price wise. For quality we're at the top :P) and you can buy the single site license for $59.95 which is really good value considering all the great features, updates for life, support and documentation you get included. On the site we've tried to make things as easy to use as possible – for example we've got a download area where you can download the latest version of your theme and documentation. It's the little things that should you choose to go with us make us just about perfect :).
You might have noticed we're not fully GPL. All our WordPress dependant code is but design and CSS is not. We chose to do this because it has taken nearly four months to get to this point and we're not happy with the possibility of people redistributing our hard work for free. I'd think if you'd spent six out of seven evenings for four months working on something, you'd quite probably agree.
Can I has a copy?
Most certainly. Use the code SHIFTLAUNCH to get twenty percent off, making the theme $47.96. You'll have to be quick though; it's only valid until Wednesday!
For more information and to see the theme in action, visit the link below.
I think I've got everything covered. If I haven't, feel free to leave a comment with any questions or even better, go and take a look at our theme!
---