Thesis 2.0 & The State of Premium Frameworks
At the start of the month, DIYThemes launched the latest version of their hugely successful theme framework, Thesis.
Due to Thesis' closed-source licensing, outside the tight-knit Thesis community, it is, to be honest, a little bit of a taboo to talk, write about Thesis unless you're giving it a hard time.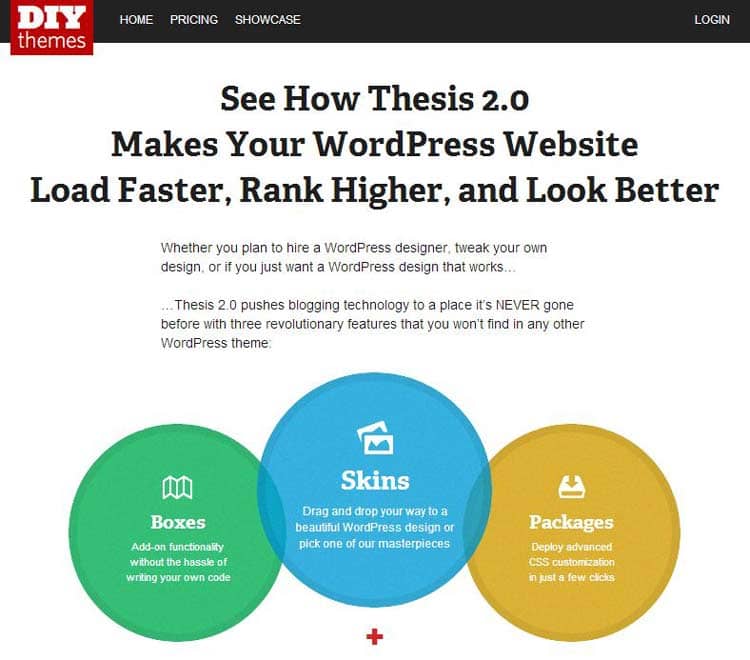 I'm not setting out here to give Thesis a hard time, but I am setting out to look at what the launch of the latest version of the framework says about premium WordPress themes at the moment, specifically premium "frameworks".
I don't use Thesis, and it's unlikely I ever will, but I still took an interest in the launch and the new features etc. What I noticed was so… notable I felt it's worth of a post here on Shout.
A little bit of background
I couldn't actually find an exact date for when the last major version of Thesis was released, but as far as I can tell, it was roughly August 2010.
The new version was released on the 1st October 2012.
The various marketing materials have promised the latest version is a  "total re-write", but even so, two years? That's a hell of a long time, to go without a major upgrade.
At the very least, though, you would kinda expect something that's taken this long to make is at least, you know, finished and complete. Maybe even well documented.
Sadly, as far as I can tell, on initial release, Thesis was none of these things.
Big release hype backfires
A lot of hype was made about 1st October being the "big release day". People were — obviously — excited. They were rocking Windows 95 and had just been told they were going to get a free upgrade to Windows 8.
Sadly, release day came — and nearly went again — Thesis 2.0 was released at around 11.45pm. Not what you'd expect on the day of a release that's been in the works for two years, right?
I didn't stay up until then, by the way, I learned this from a blog post that went up on the DIY Themes site the next day. Have a read of the post; when I did, I was appalled.
"But as we expected, with such a major overhaul, and tons of people using the new software, we've stumbled on a few bugs.

And while we squash these bugs, we don't recommend you switch over your old version of Thesis to Thesis 2.0 just yet."
Okay, so there are some bugs. Fair enough.
The big point for me, though, was that despite the fact the new version was a "complete overhaul", with all new menus etc, there, um, wasn't any documentation on how to use any of it.
Reading through the comments, it became clear that Thesis 2.0 was unfinished and released just because a release had been promised, not because it was ready. Again, as far as I could tell, there was no beta testing, no documentation or tutorials and saying "hey, we released that new version like we said we would… just don't use it yet!" isn't exactly ideal.
But marketing saves the day
Thesis bashing complete, the point I'm getting to here is I very much doubt the launch will be considered the failure it kinda was.
A lot of new features were introduced, just they were essentially playing catch-up with the rest of the market. "Drag and drop" theme design has been something Headway and Builder have been doing for years. SEO features? I'll take Yoast's plugin any day.
But if you're clever about it and your marketing's good, then, hey, it doesn't matter.
And DIY Themes are damn good at their marketing.
It's all about the hyperbole
Which finally brings me to the point I'm trying to make here.
I've noticed a distinct trend over the last couple of months of a distinct shift towards marketing and hyperbole from theme makers.
StudioPress joining Copyblogger Media has had great results for Brian and his team, but even Genesis hasn't really seen any major new features added recently. The StudioPress site, however, is now packed full of marketing content designed to drive you to purchase.
And I have absolutely no complaints about that — clearly it's working very well for StudioPress; Brian said on his blog:
"Brian Clark promised me that he'd double sales with StudioPress, and that happened in half the time he had expected. Our site traffic has tripled since then as well."
My fear is that the constant innovation that's propelled the WordPress theme marketplace forward in the last couple of years has stalled and that innovation has been replaced by snazzy marketing instead.
Innovation, please
But is this just the marketing side catch up with the innovation side? Or is there secret stuff going on behind the scenes everywhere that I'm missing?
Certainly, in DIY Themes' case, I don't think this is the case at all. Thesis 2.0 was playing catch up with the competition, but it's been presented as groundbreaking. Has anyone really noticed? I'm not entirely sure they have.
But what about Genesis, Builder, Headway and the other frameworks?
I asked Cory Mille, Brian Gardner and DIYThemes whether it was a fair accusation that innovation had been replaced with marketing. DIYThemes didn't reply to my email and Brian declined to comment, but Cory said:
"We've believed since Jan. 2008 that our work should speak for itself. We take great pride in building software that our community wants and loves. The test is if we fulfill our mission of "making people's lives awesome" and whether or not we're deserving of attention.

Sadly though, because we don't like to toot our own horn we get forgotten. There is a fine line between sharing what your product does with marketing messages and going over that line into hype. It's just not who we are. The result is we'll just keep probably getting overlooked in this sea of hype but stick to our core values and be in this for the long term."
I'll leave you to draw your own conclusions from what Cory said, but "because we don't like to toot our own horn we get forgotten" — that stings.
Let's talk it out, folks
Had any other theme shop spent two years making a theme, released it and then immediately told people that they shouldn't use it, but DIY Themes? They can get away with it, no sweat.
So was it just their marketing that allowed them to stay ahead in the WordPress framework market for so long? And is it just down to StudioPress' Copyblogger-backed marketing that means they've taken the lead as the premier framework?
And more importantly, has this shift towards marketing left everyone else behind, or is this their biggest opportunity yet to come up with something genuinely different and better?
I'd love to hear your thoughts.
---