How to Use Simply Schedule Appointments, a Free Online Booking Calendar for WordPress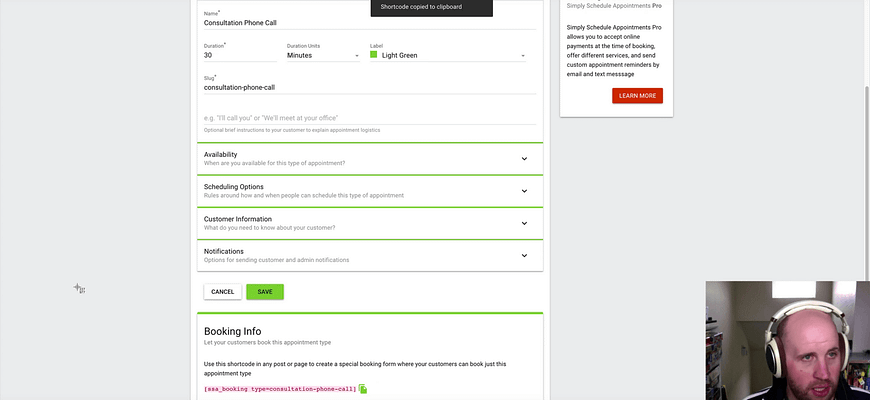 Today, we'll cover a free online booking calendar for WordPress called Simply Schedule Appointments. We'll also cover why, and how to use the powerful appointment-scheduling WordPress plugin.
Why Use a Free Online Appointment Scheduling Plugin?
First, the why: As a consultant, coach, or busy person, scheduling appointments can be frustrating exercise is circular email chains. (Quick tip, not WordPress related: ALWAYS suggest 1-3 concrete times that work for you (1:30pm US Eastern on Tues the 30th over Zoom) when trying to set up meetings. People almost always appreciate your speeding the process along. And then you know they work in your schedule.) Anyway, products like Calendly or Meetingbird exist for free scheduling online software. If you're not familiar, with these tools you name your availability (Mon-Fri 9-5pm) and get a link, at that link your meeting-recipients choose among your availability and it's all set up.
These features of "make your own meeting time" are great, but sometimes you want more control over appearance, or more customization than these tools allow. This is where Simply Schedule Appointments comes in. It's a WordPress plugin with the great features of things like Calendly, but you stay in control of it as it's a WordPress plugin in your own site.
In this short Quick Guide, you'll learn how to use Simply Schedule Appointments, one of the best available free online booking calendar for WordPress IMO. Free online appointment scheduling is a growing feature, and it's great to know a WordPress plugin that can do it for you.
As usual for our Quick Guides, we'll start with the video explaining how to use Simply Schedule Appointments:
3 Steps to Setting Up Simply Schedule Appointments
To get started with free scheduling online with WordPress, you'll go to "Plugins > Add New." There you'll simply search for "Simply Schedule Appointments." Then install and activation the plugin.
After you'd activated the Simply Schedule Appointments plugin, you'll need to get your first shortcode for using your free online booking calendar for WordPress. To do this you'll go to "Appointments" in the left sidebar. You'll then see a guided setup wizard. At the end you'll see a screen that offers you a shortcode, something like [ssa_booking type=consultation-phone-call]. Copy that to your clipboard.
With your Simply Schedule Appointment shortcode, you'll want to go create or edit the post you need. Then you'll paste into it the shortcode. Even with the new block-editor, a simple "Paste" command will work. So you'll just CTRL+V or CMD+V the shortcode from your clipboard. Then you'll publish or update the page and be set. When you view the published page, you'll see your free appointment-maker reader to rock!
Who Doesn't Love Free Online Appointment Scheduling?
Simply Schedule Appointments has lots of options and extensions (some free, some paid) for your free scheduling online to let you do things like add the content to your Google Calendar. It's a free online booking calendar for WordPress, and I hope you find it useful. (And that you also love the foxes. I ❤️ foxes. 🤓)
---