How to Create Pages in WordPress in Under a Minute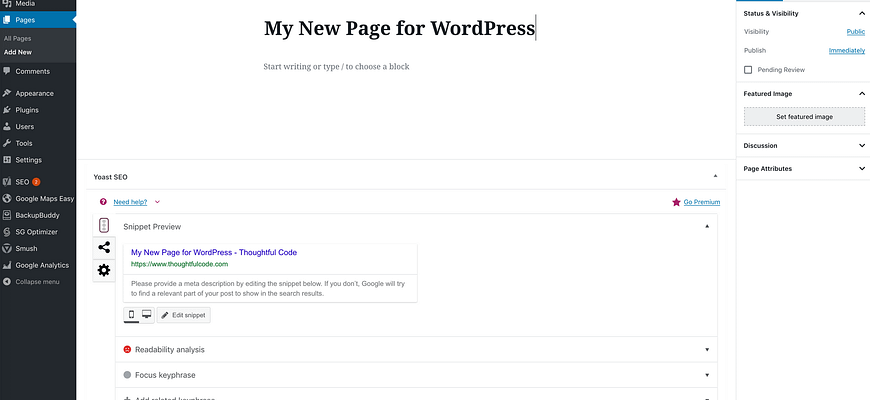 It's an important part of coming to grips with the platform to create a new page in WordPress. In this Quick Guide we'll explain how to create pages in WordPress, why you'll want to do that, and what it means to have done so.
For the unfamiliar, "pages" are one of WordPress's two core "post types" or more usefully "types of content." The other is called "posts;" people often think of those as being "blog posts." In general, WordPress pages will be things you'd want to link to in your main navigation menu, where things called "posts" are more day-to-day. But I'm getting ahead of myself. In general, you'll create a WordPress page a few times per year, and make posts almost weekly. But again, I may be jumping the gun.
What's the Difference Between Posts and Pages?
The reasons you build, and how you use, a WordPress site will differ a lot. Some people get a WordPress site for their dental practice. Other do it share their thinking with the world. WordPress decided ages ago that all of those people had two needs common-enough that they'd be included with WordPress by default. They are making a "post" and making a "page."
The difference between posts and pages in WordPress is something I already started to explain. But there are few questions that I ask that steer how I think about the "post vs page" choice in WordPress:
Is this information an "update" about an ongoing situation? It should be a WordPress post.
Is this information that will be relevant for a long time? (Think of a dental practice's location, philosophy of care, and billing practices.) It should be a WordPress page.
Is this information a one-time event you're looking to mark? "We're going to the Santa Clara farmer's market on Tuesday" should always be a WordPress post.
With WordPress, you'll create new pages using the same basic editor and process as a post. (Under the hood, they're even stored in the same storage system called a database table.) But that doesn't really matter for most of us. What's more important is understanding what goes in each. I hope the above questions help you answer when you'll want to make a WordPress post vs making a WordPress page.
Using WordPress: Create New Pages in Video
I always make videos for our Quick Guides here at WPShout. If you're still a little fuzzy about this posts-vs-page distinction, I touch on that topic in this one as well. Anyway, here's the video about how to create pages in WordPress:
6 Steps to Create a WordPress Page
So you've decide that you've got some content to share on your website. Your WordPress page will be long-lived information that doesn't really change over time, and you're just looked for a guide through how to create pages in WordPress. Here are the steps:
First, you'll need to be logged in to to create WordPress pages. Make sure you've done that.
To create a new page in WordPress, you'll want to navigate to "Pages > Add New" on your left-hand navigation pane from the WordPress administration area. The "Pages" subheading will list for you all of your existing WordPress pages. If you're on that, it'll also have an "Add New" button near the "Pages" page title at the top-left.
If you're on modern (WordPress 5.0 and above), you'll just see a big white field and the words "Add title" at the center of your page. (For WordPress 4.9 and below, or WordPress with the "Classic Editor" plugin, you'll see "Add New Page" at the top, followed by the "Enter title here" text.
Name your post. This should just be something clear and useful to visitors. Like "Contact Us" if that's the relevant title of the page.
Write the post content. This step is really easy for me to say, but it may actually be the hardest part of how to create pages in WordPress. This shouldn't be hard because the editor or technology doesn't work. It's just that writing good, clear, useful text is an art, and one that can take a lot of time to master.
After writing, hit the "Publish" button in the top right to create your WordPress page. The exact button location, and how it'll act when pressed will vary depending on your site version. But the next-step should be clear enough.
That should pretty much wrap up our coverage of how to create pages in WordPress. It's not a complex process. And as you get more seasoned in WordPress, you'll be a master. The first few times can feel intimidating, but I believe in you. Just make sure you understand the difference between WordPress posts and pages, and you'll start to forget when creating WordPress pages scared you. Happy publishing!
---