See Google Data in WordPress with the Site Kit Plugin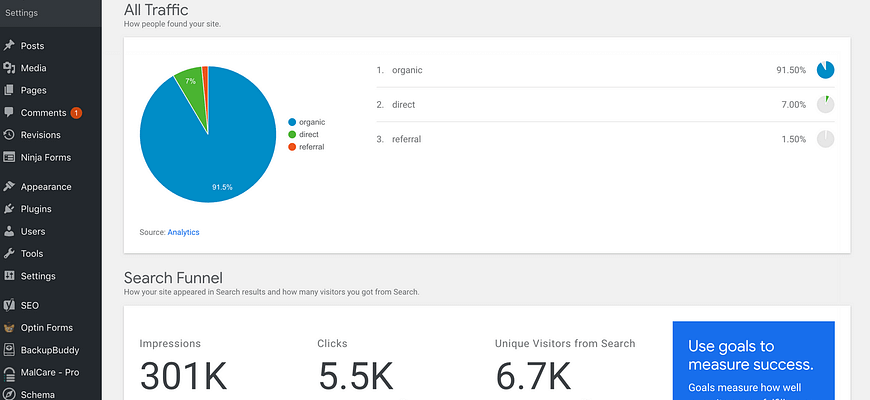 There's a lot to love about integrating Google into your WordPress site. For one, most of us are running WordPress sites (at least in part) to make sure that our websites rank well in Google. What's more, we're also probably (I know I can't be the only human with this problem) not checking in on how we're doing in Google Analytics, Search Console, or other tools as much as would be strategic for our business. All these reasons and more are why you should use the new Google Site Kit plugin for WordPress. It'll give you Google Analytics data right in your WordPress dashboard. For free!
Get Search Console in your WordPress Dashboard, the video
This video explains the how and why of installing the WordPress plugin Google Site Kit. It not only can show your Search Console data in your WordPress dashboard but also you Google AdSense data (if you use it to show ads on your site). Here the walk-through:
Get Google Analytics Data in WordPress Admin Area
If text directions are more your speed, here's the basic way that I've used to quickly get Google Analytics into the WordPress dashboard using the Site Kit Plugin.
From within the WordPress dashboard, navigate to "Plugins > Add New" in the left sidebar.
On that screen, search for "Site Kit." The space in important, because WordPress's plugin search feature wasn't smart enough to suggest "Google Site Kit" to mean when I typed in "sitekit." "Install" and "Activate" the Site Kit Plugin.
Then, (on your first use only) you'll need to authorize your WordPress site to see your Google data from the Google Analytics tool. This process is triggered when you click "Connect this tool." I won't explain each screen you click through (you've probably done this sort of things a few times before), but you'll reach the end of the flow authorizing your Google account.
After you've done that, you're pretty much set. Google Analytics data will be right there in your WordPress dashboard. If you want to use other tools, you'll need to connect each one sequentially. At least when I last checked in December 2019, Google doesn't authorize your WordPress site for all accesses in one shot.
With those steps you've got Search Console, Google Analytics, and whatever else you've connected in WordPress. They make their logo pretty prominent, but when you come back to glace at the data again, you'll find it near the top your left-side admin menu in the WordPress backend. For me it was right at the top, under "Dashboard." (Though precisely where it lands will be up to which other plugins you're using.)
---