Fix Table Views using Screen Options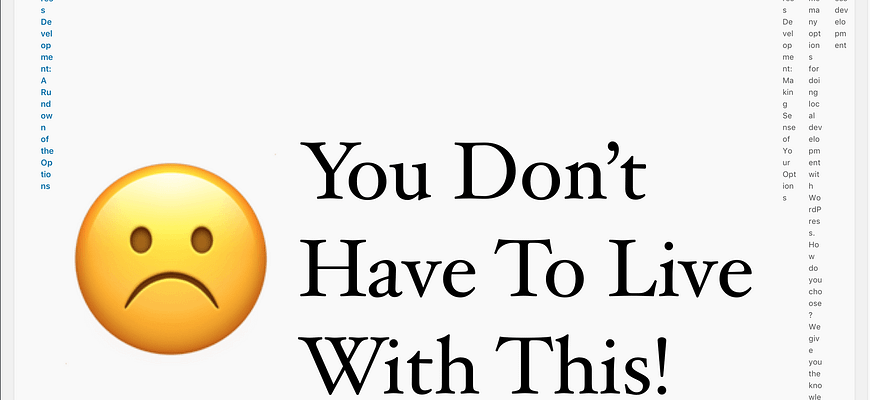 The amount of visual clutter that some of the most popular plugins bring to the WordPress administration area wears on me at times. It's not that it's totally unacceptable, but for so many of them it can feel like they're just trying to assert themselves for their marketting goals, rather than enhancing my experience. Both Jetpack and Yoast, which I use on a number of different WordPress sites, clutter up my view of all the posts (or pages, or other custom post types) on my site with columns I just don't care about. For a while I just suffered silently, not bothering to wonder if there was anything I could do.
Then one day, I was explaining to a newbie about the kind of weird but often useful "Screen Options" tab at the top of many WordPress pages. And I realized that I could reclaim my tables that way. So I made a video. If you don't know what I'm talking about, and like learning with video, check it out:
Clearing Unnecessary Columns with Screen Options
Go to the table view in the admin area of your WordPress site you're finding hard to read because your columns have gotten too darn narrow.
In the top right (near the "Howdy, %name% bit) you will see a tab-looking thing that says "Screen Options". Click that.
That tab should slide down to reveal a series of checkboxs under the heading "Columns". Uncheck the names of columns you don't want to have show up any more. For me that was things like "Stats" from Jetpack, "Readability" from Yoast SEO, and the "Author" column, which I think some plugin I was using breaks.
Enjoy the easier to read table.
One quick note: WordPress should automatically save you choices, so you shouldn't ever need to change that specific table view again. But you may need to do it again for other post types. And if you've not noticed it before, start watching out for the "Screen Options" tab, it does great things for you if you're looking to change most pages in the WordPress admin area. (To many of those "Meta Boxes" on the edit page? It works about the same as this.)
---