Premium WordPress Plugins Discussed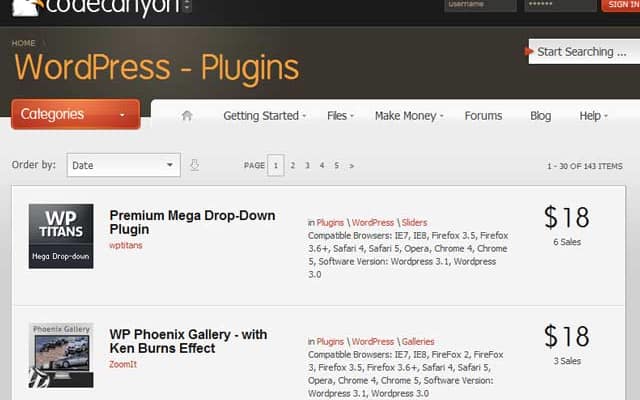 Premium plugins have been around for a while now. They started off as a way for people to express their support for a plugin developer and over the past year have started to take off. GravityForms, PluginBuddy and CodeCanyon have all contributed to the rise to prominence. But where next for premium plugins? This post explores.
What makes a plugin premium?
For argument's sake, premium means paid for. So, by that definition, a premium plugin is a plugin which you must purchase.
Places like CodeCanyon, pictured above, have a huge range of genuinely great plugins available for you to buy. CodeCanyon and other plugin marketplaces also represent a move away from "buy the premium version of my plugin to show your appreciation" and a move towards "buy my plugin cause I spent ages making it and it offers some brilliant functionality that you can't get elsewhere".
I'm not for a second saying that you shouldn't support the development  of free plugins, just that premium plugins appear to offer a more sustainable and attractive business model.
What about licensing?
Plugins are most likely licensed as full GPL. Because they're so heavily dependant on WordPress code, it's difficult under the WordPress rules to split or restrict the license. This means most plugins can be  used on multiple sites, as you wish.
It's common to only support single sites, as GravityForms does, but there's nothing to stop you installing GravityForms on multiple sites. It's always worth checking you can install the plugin on multiple sites though as no doubt yo will want to do so at some point.
Why would I want to buy a plugin?
We'll call it the GravityForms effect. There wasn't a single awesome contact form solution until GravityForms came along, but when it did the response was something to the effect of "wow, that's amazingly awesome! I want it for all my sites now!" And then everyone went out a bought it. People buy plugins which do something complex. That's it in a nutshell. GravityForms is a great example of that.
Gravity Forms' Carl Hancock explains:
"We filled a need a lot of users had, we did so while still providing an easy to use (yet powerful) product, and we built up a lot of marketing buzz leading up to the initial launch."
What's the future of free vs premium plugins?
I really don't see premium plugins replacing free ones in the way themes have — plugins can be timeless, unlike themes, and there's already such huge momentum behind free plugins they simply aren't going to be replaced.
However, the future does look strong for premium plugins in the creation of advanced plugins which offer super-duper functionality — sliders, contact forms and the like. WPTavern's Jeff Chandler:
Whether people like it or not, [the number of] commercial plugins are going to continue to increase but there is not a single way in which to depict how that will play out as there is no guaranteed system [for commercial plugins] that will work.
Unsurprisingly, Carl agrees:
The future for very bright for commercial plugins.  Free plugins are great, but when you use WordPress as a business tool, it's comforting to know that the plugins your business relies on to succeed are backed by a reliable team of developers that are going to be there when you need assistance.
— Carl Hancock, rocketgenius
Personally, I'm all for more premium plugins as they encourage developers to go the extra couple of miles when developing their plugins. However, it's not one or the other — the work of the free plugin developer is hugely underappreciated, so if you find yourself depending on a free plugin, give the developer a little thank you (and don't take support for granted)!
Thoughts? Answers? Opinions? Comment below.
---