Owning Your Content: A WordPress User's Guide
I'll admit, when I first heard the phrase 'own your own content', I thought it was a little unnecessary and slightly pretentious.
It was a couple of months ago, around the time Instagram made its now infamous change to its Terms of Service and my immediate reaction was "you really think you have Instagram photos worth selling?" But that wasn't really the point people were making; it's the principal that you should own the rights to your original content, no questions asked.
Whilst I was initially dismissive, I did my homework and started reading up around the subject, and when things like John Saddington's Pressgram started, I figured if John was able to raise $50,000, he might at least have a valid point.
The tipping point for me came when I read about the recently-passed Enterprise and Regulatory Reform Act, which essentially puts all of your photos into the public domain where you, the owner, are not immediately identifiable by either the photo's metadata or a "diligent search" (which isn't a legal term, so in practice probably means a quick Google).
From now on, then, I'm going to proactively move my content from Twitter, Facebook, Instagram and the like, and onto my own WordPress powered alternatives. Want to do the same? Here's everything you need to know about owning your own content with WordPress.
Make publishing easy for yourself
The big advantage of using platforms like Instagram, Twitter and Facebook to share your content is that it's easy. All of the major social platforms have easy-to-use mobile apps which let you share content instantly, and you essentially need to build your own system to compete with that ease of use.
Sadly short of building your own suite of apps, you're not going to be able to entirely compete, but with some nifty IFTTT setups, you should be able to essentially build your own easy-to-use social setup.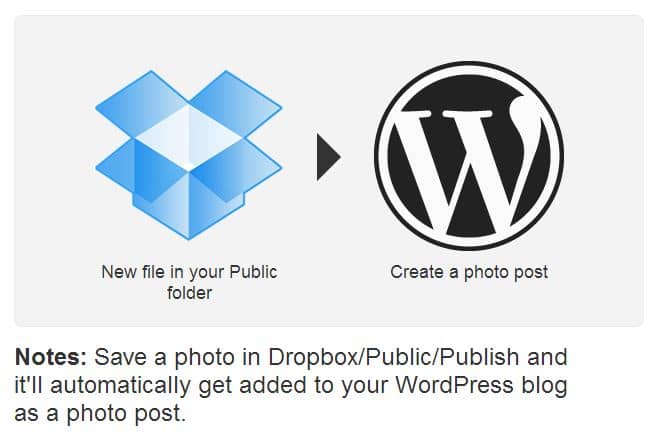 Obviously for anything text based, you've got WordPress apps available for all sorts of mobile platforms, so it's images which need the attention. I'm rocking an IFTTT recipe called DropPress which will take any images in a specific Dropbox folder and upload them as new photo posts to WordPress. With filters built into my Nexus' default photo app, for me the publishing process is simple: snap a photo, edit as required and use Android's "share" button to send to Dropbox.
For iPhone users I don't think you'd be able to do that so easily, which is fortunately where the aforementioned Pressgram comes in; once it's finished, it'll let you snap a photo, add filters, title, caption and upload straight to WordPress. Neat, right? It's all about making publishing your content as easy as possible, in a way that works for you, so try some stuff out and see what sticks.
Protect your images
So you're hosting your own stuff on your own site, but what's to stop someone from finding some of your pictures via Images Search, claiming there's no context and thus that they're unable to locate the owner? Nothing, actually! Arguably as your own site is going to be better set up for search engines, this is even more likely.
Thankfully, solutions are at hand! You have two options here: add copyright notices to the exif info of the images themselves or add a copyright notice to the actual image by way of a watermark. Both identify the files as yours, so with either in place your content should be appropriately protected.
Sadly, both options have their downsides. Editing exif information is fine if you run all of your photos through Photoshop anyway, but if you don't, it doesn't look like there's an easy way to add said exif info to your files. For most people, this will just leave watermarking, which isn't something that's going to work for everyone; it's a bit intrusive and almost feels unnecessary.
However, there are a bunch of plugins available which will automate your watermarking, and done discreetly, watermarks don't have to look too bad. One of the best options seems top be the Transparent Image Watermark plugin, which lets you add a small and discreet transparent PNG to a bottom corner. It seems like a reasonable compromise.
License your content properly
Thus far I've focussed on the technical side of protecting your content, but that's not all you can do; you also need to make sure it's clear to real people visiting your site how they can/can't use your content. This means two things: putting an actual license in place and making it obviously available.
If you want to retain all control over your work, then a simple copyright notice in your footer will do the job. The correct format is "Copyright date by name of owner". To make it extra clear, you might like to append that with a short notice telling the person the contents of this page are copyrighted… just in case they didn't get the message first time. You may also like to ask them to contact you for information about how they can license your work for commercial usage — everything has its price, right?
If straight-out copyright isn't right for you, you may want to look at the freedom-inducing Creative Commons licenses, which will allow potential users-of-your-work the freedoms you offer, ie commercial/non-commercial usage and yes/no to modifications. Whatever you go with, just make it very clear.
Time to do something
Sadly, your data and your content is on a slippery slope, and the sooner you take control, the better! It takes a little effort to start off with, but building something that's convenient and works for you will make it well worth the time in the long run.
–
Many thanks to FooPlugins for powering this post! Foo provide free and premium high quality and standards compliant WordPress and jQuery plugins, including the awesome FooBox and SocialWiggle Pro! WPShout doesn't have any other ads; if you'd like to support the site, please get in touch!
---