More WordPress Books Reviewed
A couple of weeks ago I had the pleasure of reviewing Digging into WordPress and How to Be A Rockstar WordPress Designer. Since then, I've been contacted by the nice people at Packt Publishing who offered to send me WordPress 2.7 Cookbook by my good friend Jean and WordPress 2.8 Theme Design by Tessa Blakeley Silver. This post will look to see if these two books are any good.
What's in a name
Before we get to the reviewing bit, I'm sure many of you have pondered in the past why Packt put version numbers with the titles of their books; it immediately dates the book in a world where new versions are released all of the time. I have an answer to that question:
The title is decided by the Acquisition Editors, and primarily the version numbers are mentioned so that the readers can immediately get a vague idea about the book and the technology it caters to.
I'm not convinced that's a good excuse and it surely means people think the information is dated, even though it's likely it isn't.
WordPress 2.7 Cookbook
This is the book that inspired the hugely successful WPRecipes. It's not sold too well either, and you can kinda see why; why would you buy a book when you can get it on one site? Good question. The best answer I can offer is that the book is very well structured; you can start learning about themes and then gradually move on to customisation, using plugins, optimisation, functionality and then some general improvements.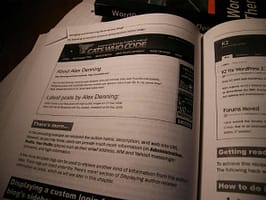 Hey, it's me!
The book is well illustrated with lots of screenshots but is fundamentally flawed because it's a book primarily filled with code snippets that would be a pain to type out unless you bought the electronic version, in which case you might as well just visit WPRecipes. That's not to say I didn't find it useful though – I was able to pick a topic and then find the odd bit of information that I didn't know and I'd find useful.
I'd recommend this to: someone just getting started with WordPress and people with a basic – medium knowledge. Ok then, anyone who isn't confident building advanced themes.
WordPress 2.8 theme design
This one is directly up against Rockstar WordPress and to an extent Digging into WordPress too. In a nutshell, I'd go for the other two over this. It tries to do an awful lot too much which leaves it doing it badly. Really important things like the loop aren't discussed in much detail at all (just over a page and 3/4 of that is code).
That's all I've really got to say about this. In a book about theme design, I don't want to learn halfway through how to add a YouTube video to a post.
I'd better say a bit more though. To its credit, the book does include some up-to-date features – post_class and some CSS3 for example, but then again, Digging into WordPress is being updated all the time (with an update due out soon, I hear).
I'd recommend this to: someone wanting to get started with WordPress and WordPress theme development but wants a printed book that's not too expensive. That's a niche market. Go for Digging into WordPress instead.
Conclusion
My nice friends at Packt probably won't be my friends after that, so if you wanted to win one, sorry. I can recommend the WordPress Cookbook as it's well laid out and thought through. Just don't go near the other one. If you want a book about WordPress theme design, go for Rockstar Theme Design. If you want a book about WordPress development and design, go for Digging into WordPress.
---