Write WordPress Posts in Google Docs with Jetpack and a Chrome Extension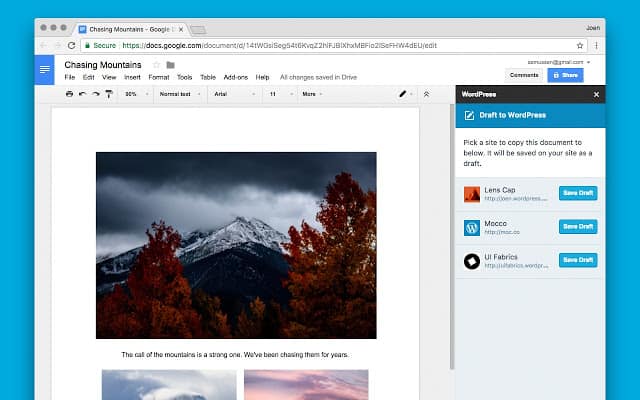 I'm writing this article in a Google doc. How cool is this?
For me, one of the least enjoyable things about WordPress is actually its editing experience. Over several years, I've talked about how editing in WordPress feels like being trapped in a gray box, and how front-end editing felt like being free to write directly onto a website. That was a great feeling, but the front-end editor ended up being too complex to carry forward.
With the WordPress.com for Google Docs browser extension, you can write directly into a Google Doc and then save it to a draft on a connected WordPress.com site. I don't use WordPress.com much, but you can also bridge your drafts to any WordPress.org site (like WPShout) that uses Jetpack, which supplies the needed bridge to a WordPress.com account.
There are lots of things you can't do—save your draft as a custom post type, give arbitrary names to the images you pull in, and so on—but there's also some absolutely incredible stuff that you can now do for the first time, such as:
Collaborative editing. You can now write post drafts together with many other people, which has been virtually impossible in WordPress.
Easy tables.
| | | |
| --- | --- | --- |
| We could | have | plugin-free |
| tables | easily | now? |
Easy Google Sheets-powered graphs.


If you feel the need for a more polished, "a trillion-dollar-company made this" type of text editing experience, definitely check out this extension. A shoutout is also due to Jetpack, who really are trying to take the cool stuff from .com and share it with .org.
---