Kinsta vs. Bluehost: An Honest Review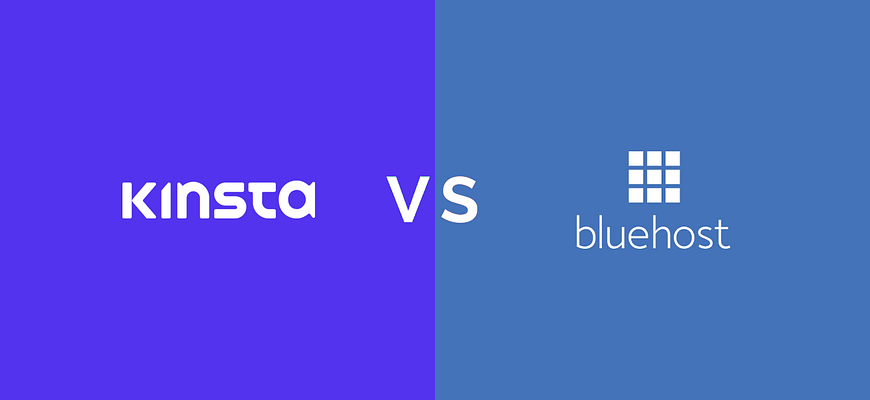 Are you trying to choose between Kinsta and Bluehost to host your WordPress website?
Well, if you're short on time, I can save you the trouble of reading this post because, put simply, Kinsta is miles above Bluehost when it comes to performance, support, and reliability.
If you're searching Google for this topic, that probably means that Kinsta is within your budget… and if both hosts fit within your budget, there's never a reason to choose Bluehost over Kinsta. Go with Kinsta.
If Kinsta managed hosting is not in your budget, still don't choose Bluehost shared hosting. SiteGround shared hosting is far superior, according to thousands of unbiased hosting reviews from real hosting customers.
But if you're still not convinced by a pithy intro, I'm going to spend the rest of this post showing you why Kinsta is a better WordPress hosting product than any of Bluehost's offerings.
Kinsta vs. Bluehost: They're Almost Different Products
Comparing Kinsta vs. Bluehost is kind of like trying to compare traveling by boat and traveling by airplane.
Sure, both can get you to your destination—hosting a WordPress website—but they do it in radically different ways, and one is a lot faster than the other. Kinsta is the airplane in this metaphor (and you probably don't want your website's load times to make visitors feel like they're taking the Mayflower).
OK, so why are Kinsta and Bluehost different?
Let's start at the top…
Kinsta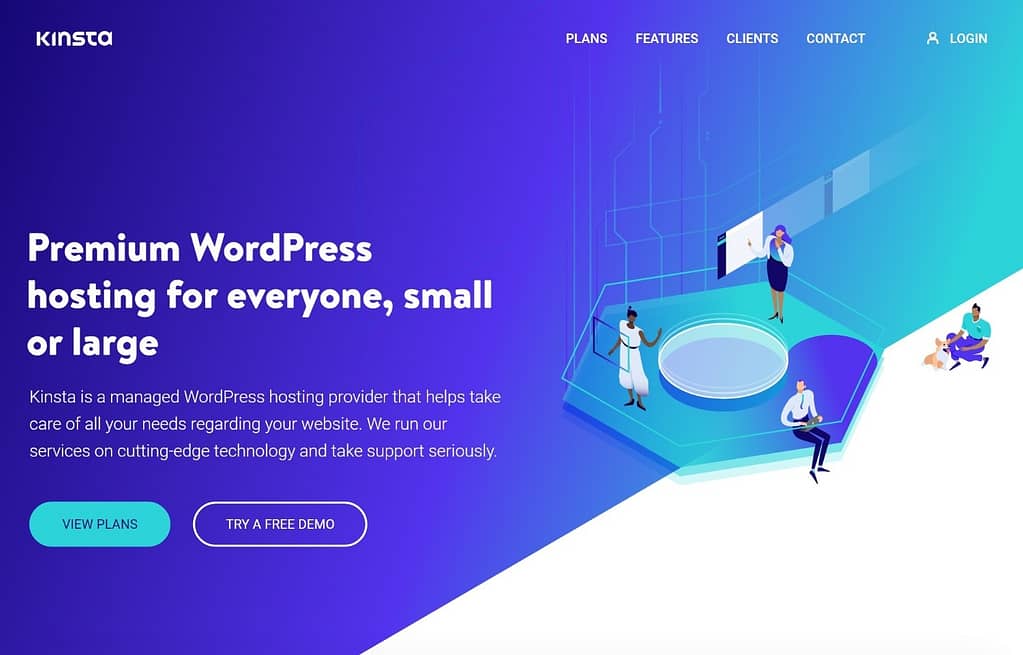 Kinsta is managed WordPress hosting: it focuses 100% on WordPress. It literally only hosts WordPress websites and the Kinsta team has built their entire infrastructure to speedily and reliably serve up WordPress websites.
They've also built their custom back-end hosting dashboard to make it easy to manage WordPress sites. There's no generic cPanel here – the entire experience is crafted to WordPress.
All of Kinsta's customers use WordPress, so all of Kinsta's support staff also have to know their way around WordPress, which leads to some of the best support around (I'll share data to back this up).
When you sign up for a Kinsta hosting plan, you know exactly how much storage your site has, how many PHP workers your site has, etc.
Kinsta is able to tell you those exact numbers because your site gets its own dedicated resources, all powered by the premium tier on Google Cloud (which is the same infrastructure Google uses for Search, YouTube, etc.).
This leads to some of the fastest page load times around. Again, I'll show you data that backs this up.
Bluehost
Bluehost, on the other hand, is a shared host, and one of the most popular hosts in the world. Bluehost is undeniably successful financially, but it didn't become that way by having the same narrow focus as Kinsta.
For the most part, Bluehost is a generalist that's trying to offer something for everyone at all budgets. That's great for helping Bluehost become a popular web host… but it's not great if you're specifically looking for the best spot to host a WordPress site.
If you're looking to host a WordPress site with Bluehost, you're probably considering one of two plans:
Shared hosting – Bluehost bakes in a few WordPress features like automatic updates, but this is basically just a generic shared hosting offering.
WP Pro – this is Bluehost's managed WordPress hosting offering. It's closer to Kinsta than the shared plans, but it's not too far off from the shared plans with its "unlimited websites and storage" approach.
Now, you might say – hey, "unlimited websites, storage, and traffic sounds great to me. Why would I want to be limited by Kinsta when Bluehost will give me unlimited everything?"
Unfortunately, there's no such thing as truly "unlimited" hosting, and Bluehost is only able to advertise unlimited everything because your sites will share their resources with other people's sites.
On Kinsta, your site gets its own dedicated resources, which is why I can pretty much guarantee that your site will load faster on Kinsta.
Speaking of…
Comparing the Features That Matter
Now that I've covered how Kinsta and Bluehost are different types of products, let's dig into some data-backed comparisons that will help you see these differences in action.
Customer Satisfaction
I think the best place to start here is overall customer satisfaction. I've made my thoughts on the matter pretty clear, but maybe I'm just one overly opinionated WordPress user.
So – do other people agree?
To ascertain that, let's look at some numbers from two popular survey/review aggregators that collectively bring together the opinions of thousands of hosting users…
That paints a pretty clear picture, right? Aggregated Kinsta hosting review data shows that most people love Kinsta. On the other hand, the same data paints a much less positive picture for Bluehost.
Performance
To compare the performance of Bluehost vs. Kinsta, we'll use Review Signal's 2018 Performance Benchmarks, which is the last year that Bluehost participated. We use Review Signal's data because it's objective and comprehensive.
Additionally, Review Signal tests performance under load, which is an often underlooked, but more real-world, aspect of web hosting performance. You can learn more about the methodology here.
To make this fair, I'll include data from both Bluehost's shared and cloud hosting plans, while using the data from Kinsta's cheapest plan for the Kinsta review part.
First, let's compare data from one-off tests from different locations around the world (using WebPageTest):
| | | | |
| --- | --- | --- | --- |
| Test Location | Kinsta | Bluehost Shared | Bluehost Cloud |
| Dulles | 0.387 🏆 | 0.605 | 0.525 |
| Denver | 1.287 🏆 | 1.45 | 1.466 |
| Los Angeles | 0.833 🏆 | 0.924 | 1.389 |
| London | 1.076 🏆 | 1.697 | 1.271 |
| Frankfurt | 1.014 🏆 | 2.552 | 1.32 |
| Mauritius | 2.436 | 3.493 | 2.38 🏆 |
Unless you're targeting Mauritius, Kinsta beat out both of Bluehost's plans in every other test.
These are just one-off tests, though. If your site is successful (which we hope it is), then you'll probably have multiple people browsing your site at the same time (maybe even hundreds or thousands).
That's why it's important to look at hosting performance under scale, where Kinsta again beat out Bluehost:
Load testing, simulating up to 1,000 concurrent users. Kinsta "handled this test without issue." Bluehost "struggled with this test; they showed errors and increased response times."
Load testing, simulating up to 2,000 concurrent users. Kinsta "handled this test without issue." Bluehost "ran into security issues we couldn't work to bypass. They were perhaps the most bizarre graphs I have seen during all my years of testing."
Overall, Kinsta earned Review Signal's Top Tier status, while neither of Bluehost's plans made the cut for even an honorable mention.
Uptime
Uptime monitoring isn't always the most accurate metric, but because Review Signal collects its uptime data using at least two months of data, it's worth including to give you an idea of what to expect.
Kinsta: 100%
Bluehost: 99.97%
That 0.03% difference isn't huge, but it does end up being about 15 minutes of downtime per month, which could be a problem if it happens at an inopportune time.
Support
To gauge the quality of the support you can expect to receive from Kinsta and Bluehost, we'll turn to the previously mentioned CodeinWP survey of over 800 WordPress hosting users.
In that survey, CodeinWP asked respondents to rank a host's:
Overall support
WordPress-specific support
| | | |
| --- | --- | --- |
| | Kinsta | Bluehost |
| Overall Support Rating | 4.9 | 3.2 |
| WordPress-Specific Support Rating | 4.9 | 3.4 |
Both scores are out of 5.
Kinsta support not only scored well above Bluehost, Kinsta had the best support scores out of any host in CodeinWP's survey, beating out other hosts like SiteGround, WP Engine, Flywheel, and more.
Basically, if you value having access to helpful support, Kinsta is one of the best options that you'll find in the entire WordPress hosting space.
The only thing to consider is support channels.
While both hosts offer 24/7 support, Kinsta only offers support via its in-dashboard Intercom live chat/ticket system. You can read Kinsta's reasoning here.
Bluehost, on the other hand, lets you choose between phone, live chat, or ticket support.
Features
| | | | |
| --- | --- | --- | --- |
| Feature | Kinsta | Bluehost Shared | Bluehost Managed WP |
| WordPress Autoinstaller | ✅ | ✅ | ✅ |
| Automatic WordPress Updates | ✅ | ✅ | ✅ |
| Server-Level Caching | ✅ | ✅ | ✅ |
| Free SSL Certificate | ✅ | ✅ | ✅ |
| PHP 7.4 | ✅ | ❌* | ❌* |
| Staging | ✅ | ✅ | ✅ |
| Email Hosting | ❌ | ✅ | ✅ |
| Automatic Daily Backups | ✅ | ❌ | ✅ |
| On-Demand Backups | ✅ | ❌ | ✅❌** |
| Built-in CDN | ✅ | ❌ | ✅ |
| Hack-Fix Guarantee | ✅ | ❌ | ❌ |
| Free Migrations | ✅ | ❌ | ❌ |
* Currently only PHP 7.3, though that might change soon.
** Depends on your plan.
Pricing
It's hard to compare Kinsta vs. Bluehost prices 1:1 in a table format because the offerings are so different, so I've taken a screenshot of each host's pricing:
Kinsta plans:
Bluehost plans:
Shared:
WP Pro:
Two essential things to understand about Bluehost's listed prices are that:
Those prices are promotional prices that only apply to your first billing cycle.
You need to pay for three years upfront to get the lowest prices possible.
When those two scenarios aren't true, the price you pay can be quite a bit higher than what you see in the screenshots above.
Kinsta, on the other hand, doesn't play games with its pricing. The price you see is exactly what you'll pay, even when it comes time to renew. If you want to save a little, you can pay for a year upfront to get two months free.
Kinsta? Absolutely, If It Fits Your Budget. Bluehost? Never
If Kinsta pricing fits within your budget, I absolutely recommend it as it's definitely one of the best managed WordPress offerings out there. You will get:
Excellent load times and reliable uptime
Quality support
A user-friendly hosting dashboard
Useful features, like automatic backups and staging sites
Is Bluehost WordPress hosting worth it if you can't afford Kinsta? Almost certainly not.
Within Bluehost's price range, you can still find much better options. For a good place to start, try SiteGround, which has similar prices to Bluehost while offering a much better WordPress hosting product.
If you're still wondering which WordPress host is best for you, you might want to check out our full breakdown of the best WordPress hosts, all backed by the same type of data from this post:
https://wpshout.com/best-wordpress-hosting-2020
We also have a guide on how to choose the right type of WordPress hosting. For example, is shared hosting right for you? Or should you go for a VPS with managed WordPress hosting features?
Choosing the Right Hosting for You: Honest WordPress Hosting Recommendations
Finally, if you still have any questions about choosing between Kinsta vs. Bluehost, let us know in the comments!
---