Introducing WPShift
For the last couple of months I've been mentioning a fair bit on Twitter that I'm launching a premium WordPress themes company. This post explains what it is, what's great about it and when it's coming.
I didn't want to post this until we're finished, but recent developments in the WordPress community have forced me to rethink. So here we are then. It's going to be called WPShift. Shifting WordPress Themes Up A Gear kinda thing. It's a joint project between myself and Alex Cragg who between us have more or less the power to conquer the world produce very nice themes.
The first theme is going to be called ShiftNews. It's a magazine style theme and is almost exclusively widget powered which means you can drag and drop the various widgets to produce your own beautiful layout that's (possibly) unique to your blog. With the multiple colour schemes, that'll probably be quite easy to achieve. We're currently at around ten widgets including two "featured content slider" style widgets and a further two widgets for displaying content (based on Justin's great work), one of which is a traditional blog layout and the second is a magazine style format. They all have quite a neat widget interface, complete with instructions of how to use them from within the widget itself which is pretty darn cool: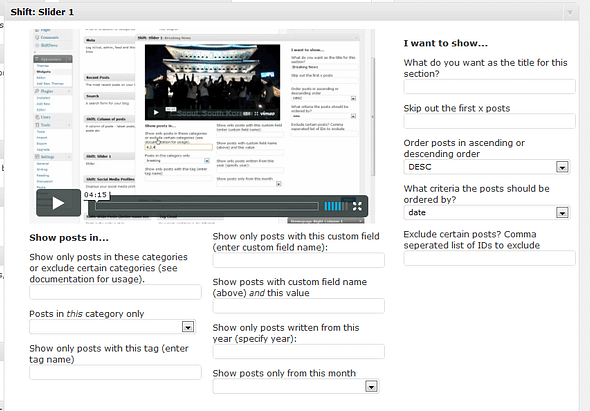 As you can see, you've got the full power of query_posts at your disposal so if you want to display specific types of post, skipping out others, then that's perfectly possible. This is by far my most favourite feature in the theme. Speaking of features, other widgets include a very neat social media icons widget, Flickr, Adsense, Twitter, YouTube; the lot.
As I said before, it's a 'magazine theme' but we've built it in such a way it'd still work very well as a blog theme. I don't really want to show a pic of the theme itself as we're stilling tweaking things although I will show one of our ads which gives you a sneak peak:

So when are we launching? Soon. The next couple of weeks or so. In the meantime, you can sign up to be notified at WPShift.com. I hope to see you guys there too!
---