Customise your WordPress login page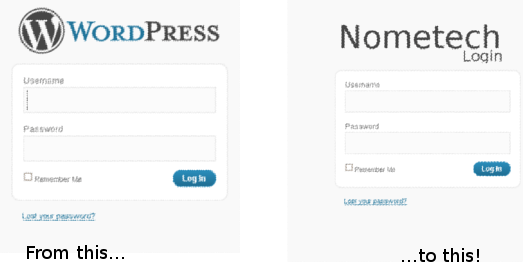 If you're running a multi user blog on WordPress, then you can easily give your site a more professional look by customising your logon page. Sounds like a daunting prospect? Suprisingly, its not; you don't even need a plugin!

First, you need to login to your FTP server and navigate to /wp-admin/images/
Download the "logo-login.gif", back it up and load it up in your image editor. Delete the WordPress logo and you're ready to go. The easiest thing to do would be to copy and paste your logo, but just adding text looks fine. Save your file and upload it to the same place you downloaded it from. Yes, you do want to overwrite it.
And that is it! Head over to yoursite.com/wp-login.php (after logging out) and you'll see your new logo in action.
Made your own login logo? Share it below.
Edit from exactly 10 years later: There are now a variety of free plugins that are good ways to do this without editing wp-admin. We recommend Login Logo by Mark Jaquith.
---