Create An Advanced Theme Options Panel in WordPress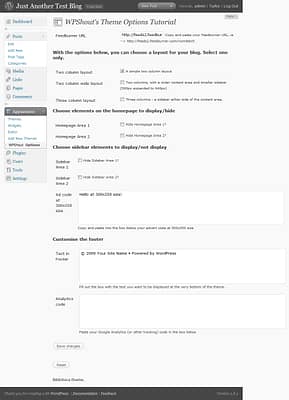 This is the start of [wp]'s second 'themed week', which run every first week of the month. Last month we got started with WordPress theme development and this month we're going to be creating an advanced theme options page.
Creating a WordPress theme options page is something that we've touched on before on [wp], and this week we'll be expanding on what we covered before to create not just a theme options page, but an advanced theme options page; we'll be creating something that lets users change layouts, hide and display different elements dotted around the theme, enter ad codes, footer text, tracking codes, Feedburner URLs, anything really:
This is a screen of the options page we'll be creating over the next couple of days – as you can see, pretty impressive! The plan for the week is as follows:
And that's pretty much it. Unlike last time there won't be a free eBook to download at the end of the week, but this is a shorter series at only four days. Throughout the week you'll be most welcome to ask any questions etc etc through the comments, and I'd ask if you're going to save the series to any social media site then please save this post. The code for the tutorial series comes from my WordPress theme framework, [b] (that in turn is based on Thematic's options page).
That's all the admin stuff out the way, so [s], save this post to Delicious and grab a cup of tea. It's going to be an interesting week.
---