Advanced Uses of WordPress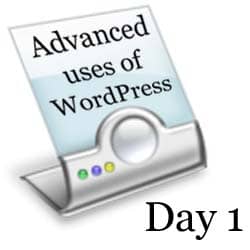 This is the third of [wp]'s themed weeks, this time with the foucs being on advanced uses of WordPress. Whilst WordPress is traditionally a blogging platform, that is certainly not the only use for it. Throughout this week we're going to be looking at [ad], with the table of contents as follows:
Day 1: WordPress as a Tumblelog
(if the links don't work, that means coming soon!)
The introductory bit
WordPress is a great blogging platform. A simple, easy to use backend and scope for development with plugins and themes. WordPress is also a brilliant CMS. More and more, WordPress is being used for all kinds of different sites; the power of [themes] and frameworks, such as [b], make WordPress a really powerful CMS. You've just got the think outside the box. You want to make a site with a large featured post, explaining about a product, with links to buy the product and recent blog posts on the sidebar? Easy. In WordPress you could use widgets, create a category for the featured product and display the post with the info on it. You could use custom fields, harcode it with a custom page template… the options are endless. That's the point I'm going to attempt to convey this week; you want to do literally anything? WordPress can do it for you.
Advanced Uses of WordPress' Reading List
There are a couple of posts here on [wp] that you should read before delving into the series to give you a solid understanding of all the jargon I'm using and all the options available to you:
With those posts read and understood, you'll be in pretty good shape for the rest of the week's post. Make sure you [s] to catch the full week's postings.
---