WPShift Now Available From $29.95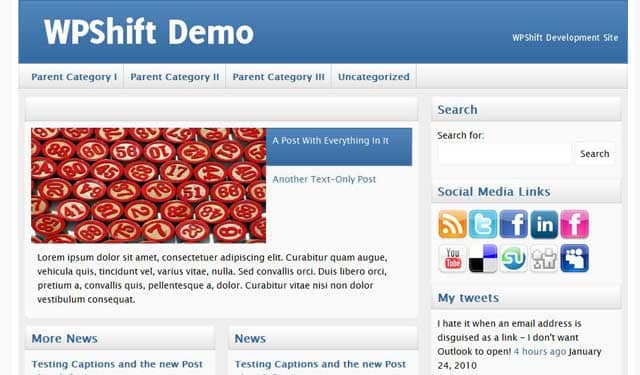 Ever since I and Alex Cragg launched our WordPress theme store, WPShift earlier this year, it's been chugging along nicely. We still only offer the one theme, ShiftNews, but we've been quietly updating it. Just last Friday we pushed out an update that adds in support for a couple of the new 3.0 functions. Yesterday we also introduced a rather interesting new pricing plan which makes ShiftNews available for a fantastically low $29.95!
Why the low price?
We want to compete with ThemeForest. Simple as that. Whilst ThemeForest's themes suffer from the problem of designers developing, themes on there have been selling really well and we wanted to put ShiftNews at a price where we can compete with the wealth of ThemeForest themes available.
$29.95 was the price we decided on. You don't lose out on features either; you still get the fully functional ShiftNews, the widget powered homepage, the massive documentation and of course the free updates.
So what's the catch?
As much as we'd like to be able to offer it, with the $29.95 "Basic" package you don't get our customisation support, but you do still get the technical support.
Let me explain what that means: if you install the theme on your PHP5, WordPress 2.9+ install and then find that, say, the comments don't work, we'll help you out. If you install the theme on your PHP5, WordPress 2.9+ install and want the colour of the comments changed, we won't help out. Essentially, if the theme's at fault, we'll step in.
Get it now!
Don't wait, get ShiftNews now for $29.95! Of course, we still offer ShiftNews with the standard and developers licenses if you'd like to get support from myself.
[button href=http://wpshift.com]Find out more about ShiftNews[/button]
Any questions, do ask in a comment.
---