Set Up Your WordPress Translation Plugin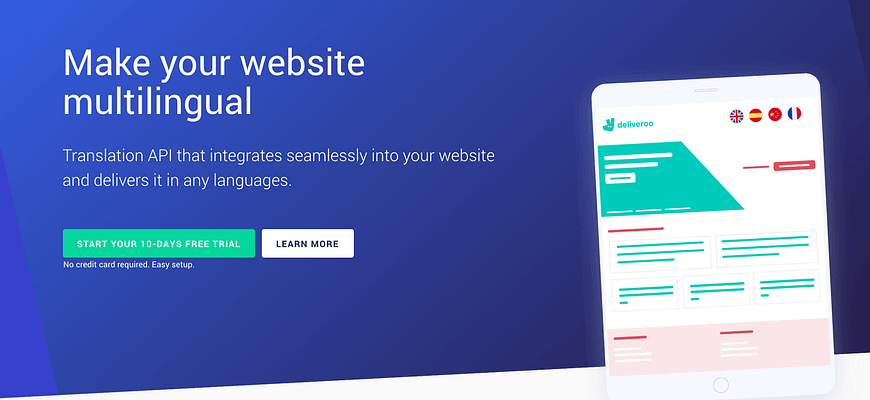 In this Quick Guide, I'll show you how to quickly translate your WordPress site into one or more different languages using the Weglot WordPress translation plugin.
Once you activate the plugin, Weglot will automatically translate your site using machine translation. Then, you can use the Weglot cloud dashboard to manually edit translations and/or outsource them to professional translators.
Step 1: Install And Activate Weglot Plugin
To install Weglot, go to Plugins → Add New in your WordPress dashboard and search for "Weglot":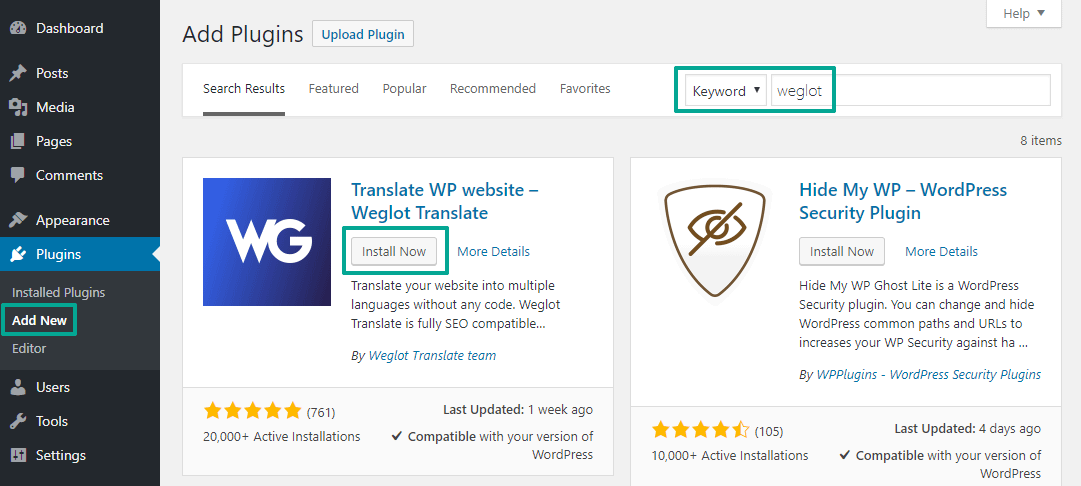 Step 2: Register Weglot Account And Add API Key To Plugin
Next, go to the Weglot account registration page and create your free Weglot account.
After you register, Weglot will send an activation email to the email address that you used to create your account:
Click on the activation link to open the page that contains your API key (the long string of random characters in the screenshot below):
Copy the API key
Go to the Weglot tab in your WordPress dashboard
Paste the API key into the API Key box
Step 3: Choose Original Language And Destination Languages
Below the API Key box, you'll need to fill out two options:
Original language – the current language of your website.
Destination languages – one or more languages that you want to translate your website into.
For example, here's how it would look if your website is currently in English and you want to translate it into Spanish:
Then, click Save Changes.
You should then see a success message telling you that your website is now multilingual:
Step 4: Configure Language Switcher Button If Desired
By default, Weglot adds a language switcher button to the bottom-right corner of your website to let visitors choose between different languages:
If you want to change how this language switcher looks or where it's positioned, you can do that from the Weglot area in your dashboard:
Step 5: Manually Review/Edit Your Translations
If you want to review your translations and/or make your own edits, you can use the Weglot cloud dashboard.
Here, there are two different ways to manage your site's translations, which you can access from the hamburger menu in the top-left corner:
Translations List Editor:
In this interface, you'll see the original language on the left and the translated version on the right:
To edit the translation, you just click and type.
Once you've manually edited a translation, Weglot will mark it so that you know exactly what you've already done.
You can also use the many filter options to find specific content to translate:
Visual Editor:
With the Visual Editor, you'll see a live preview of your site. You can browse your site like normal, including using the language switcher to change languages.
To edit any of the text on your site:
Hover over the text that you want to edit
Click on the green pencil icon
Step 6: Outsource Translations To Professionals (Optional)
If you don't have the time or language knowledge to manually review your site's translations, Weglot also includes an optional feature that lets you quickly outsource translations to professional translators from Textmaster or Gengo starting at €0.08/word.
To start a professional translation order:
Click on the three dots icon next to a translation
Choose Add to professional order
And that's everything you need to know about how to set up the Weglot WordPress translation plugin!
---