How to Update WordPress, Plugins, and Themes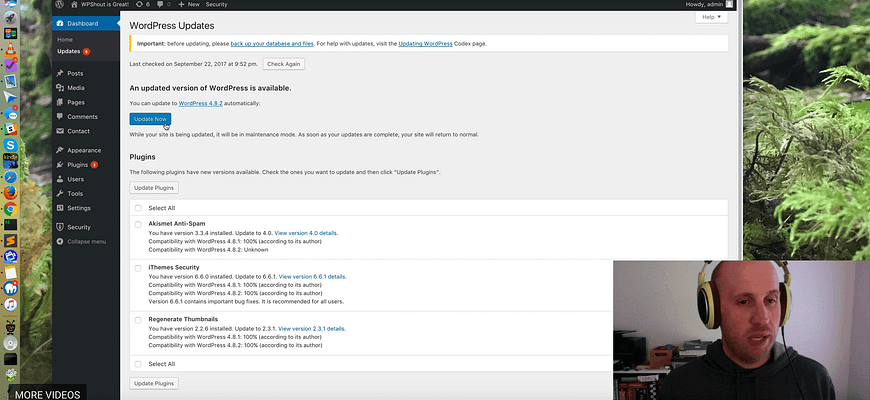 One of the easiest ways to improve the security of your WordPress site is to always keep your WordPress "core", and the plugins and themes you use up-to-date. Doing this means that when problems (or "vulnerabilities") in these softwares are found, you'll be protected. Updating WordPress is mercifully pretty easy and intuitive, but it's not without some things to keep in mind, this video covers all of those.
The biggest thing to keep in mind is that there is (a very small, but non-zero) chance that updating your plugins, themes, or WordPress core will make something "break". To protect yourself in the (rare) case that that happen, having good backups of your WordPress site is a good idea.
After you've got backups, you just need to go to updates screen, and install the updates. As I did in this video:
Quickly Update WordPress Plugins and Themes
If you have updates that need running, you'll see a circular-two-arrows icon in the WordPress admin bar. If you see that, clicking it will always take you to the updates page.
If you don't have the two-circular-arrows icon with a number next to it in the admin bar when you're logged into your WordPress site you (probably) don't have updates to install. But you can always find the updates page in WordPress by finding "Dashboard > Updates" on the left side of your screen.
On the updates page, you can run all the updates that WordPress can for you, fairly easily.
To update WordPress core, you'll click the blue "Update Now" button under the "An updates version of WordPress is available" heading. (If you don't see that heading, WordPress is up-to-date.
To update plugins, select all plugins by clicking the top-most checkbox on the "Plugins" table view. With those selected, click the "Update Plugins" button.
To update themes, select all themes by clicking the top-most checkbox on the "Themes" table view. With those selected, click the "Update Themes" button.
---