How to Create a Gutenberg Background Image (Cover Block)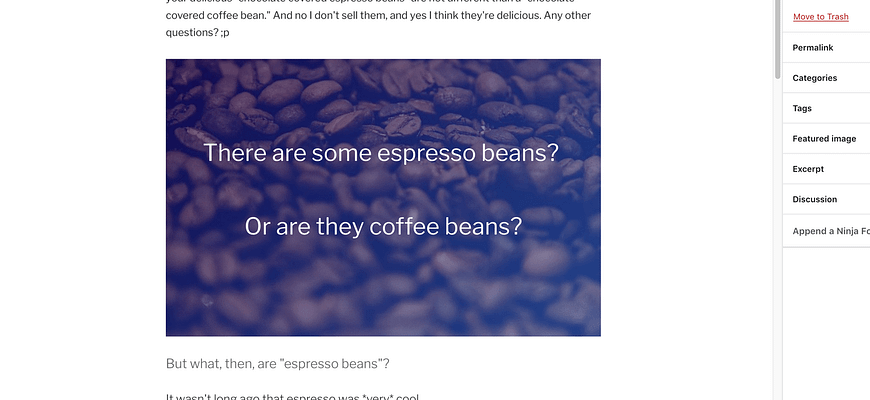 Often as you start to use the new WordPress block editor, we'll want a "background image." When I think of how to do a "background image" in Gutenberg, I think of the Cover Block. So in this Quick Guide we'll cover how to use the cover block in Gutenberg to get the backgrounded text image that you're likely seeking. Let's get to it!
Background Images in Gutenberg with Cover Block, on video
In this video I show off the most likely way I'd end up adding the Cover Block to an article in WordPress. It makes a really fun accent to your article, and it really classes up the place. Can't hate that, can you?
Basic "Cover" Image use in Gutenberg, text version
I'll note before I start explaining how to do it that here we'll explain how to add a Cover Image block the quickest way. The way I did it in the video also works, but it takes a bit longer. And we know you *readers* are in a hurry 😉
On the WordPress (block) post editing screen, click the "+" icon to add a block to your post.
Type "cover" and click the "Cover" block from the list of Common Blocks.
There you should get a media-selector and/or color selector. Assuming you came here to long on making a Background Image in WordPress, you'll want to select/upload the image here. Just hit the "Upload" button and select the image file on your computer. (Or click "Media Library" to pick an image you'd already uploaded.)
After you've selected you image, you'll enter "Text overlay" mode. So here's where you'll type the words you want over the phone of your backgrounded image.
And with that, you've got your Gutenberg Cover image ready to go. Text with an image in the background 🙂
---