How to: Create an iPhone version of your blog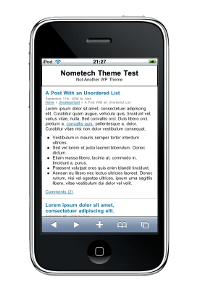 As I wrote on WPHacks a while ago, an iPhone version of your site is increasingly becoming a necessity. Why? So many people have iPhones and iPod Touches these days it is important to make sure your site works with the Mobile Safari platform.
I'll stop rambling.
Using the iWPhone Plugin, you can make an iPhone version of your blog. Trouble is, it doesn't really look that great. Solution: the Nometech iNomeBlog theme: an improved version of the default theme that comes with the plugin. It isn't particularly advanced, but it clearly displays your blog to iPhone/iPod Touch users.
To install the theme, download the file below and unzip it. Upload the iwphone.php file to /wp-content/plugins/ and activate it. Then upload the inomeblog file to /wp-content/themes/ (and don't activate it) and you're done!
Download or see the demo (if you're on an iPhone)

---