Best WordPress Hosting UK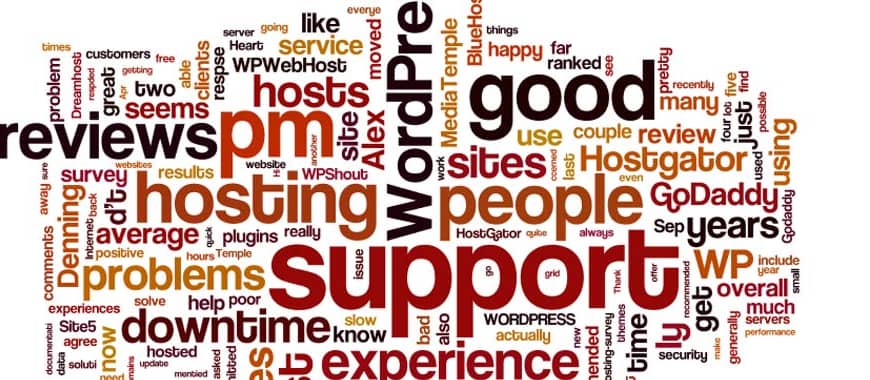 With the help of 252 WPShout readers, I've put together a comprehensive and independent review of the best UK WordPress hosting. These are the results.
| Host | Why they're good | Who they're good for | Monthly bandwidth | Storage | How much they cost |
| --- | --- | --- | --- | --- | --- |
| WPWebHost | This site is hosted with them! Prompt support and no downtime problems. | Small and medium sized blogs. | 500GB | 50GB | $6.95 |
| BlueHost | Reliable host with very few problems. | Those experiencing problems with current hosts, wishing to move. | Unlimited | Unlimited | $4.95 |
| Site5 | No problems with downtime, support handles WordPress. | Those in need of WordPress specific support. | Unlimited | Unlimited | $4.95 |
Last March I asked for people to review their hosts so I could find out which hosts were the best for hosting WordPress powered sites. A fantastic 252 people responded and I've now put together all of the answers into the promised comprehensive list.
There were a lot of hosts which only received one or two reviews and for those I can't really offer a verdict as two reviews isn't going to be representative. I've used the answers to the questionnaire to provide a simple fact based verdict on 12 hosts, giving them a verdict of Recommended, Consider or Avoid. Thank you again to everyone who submitted their answers.
I'd like to stress again the results are completely unbiased and unaffiliated. There are a couple of affiliate links, however, which have been added to the recommended hosts after the post was written. These affiliations did not alter the editorial direction in any way.
In 2011, five hosts: BigWetFish, BlueHost, Heart Internet, Site5, WPWebHost all receive the WPShout badge of recommended host. Thank you again for all of the people who submitted their hosting experiences and made this possible!
At some point in the near future, I'll be putting some extra detail into the reviews and creating some sort of eBook with more comprehensive detail. I'll be keeping this post updated too, so if you're still welcome to submit answers to the survey.
---