6 Best Live Chat WordPress Plugins: Features and Benefits
Are you wondering what the best live chat WordPress plugins are?
Live chat is a great way to provide immediate answers to curious website visitors and encourage them to become customers.
Most WordPress live chat plugins are actually SaaS tools that offer easy-to-use WordPress integrations. However, we did also turn up one native WordPress live chat solution that keeps everything on your own server.
🔌 Below, we'll dig into our top six picks for the best WordPress live chat plugins:
We'll take a look at how the best live chat WordPress plugins work, what features and integrations are available, and the pricing options.
Let's get started!
Best live chat WordPress plugins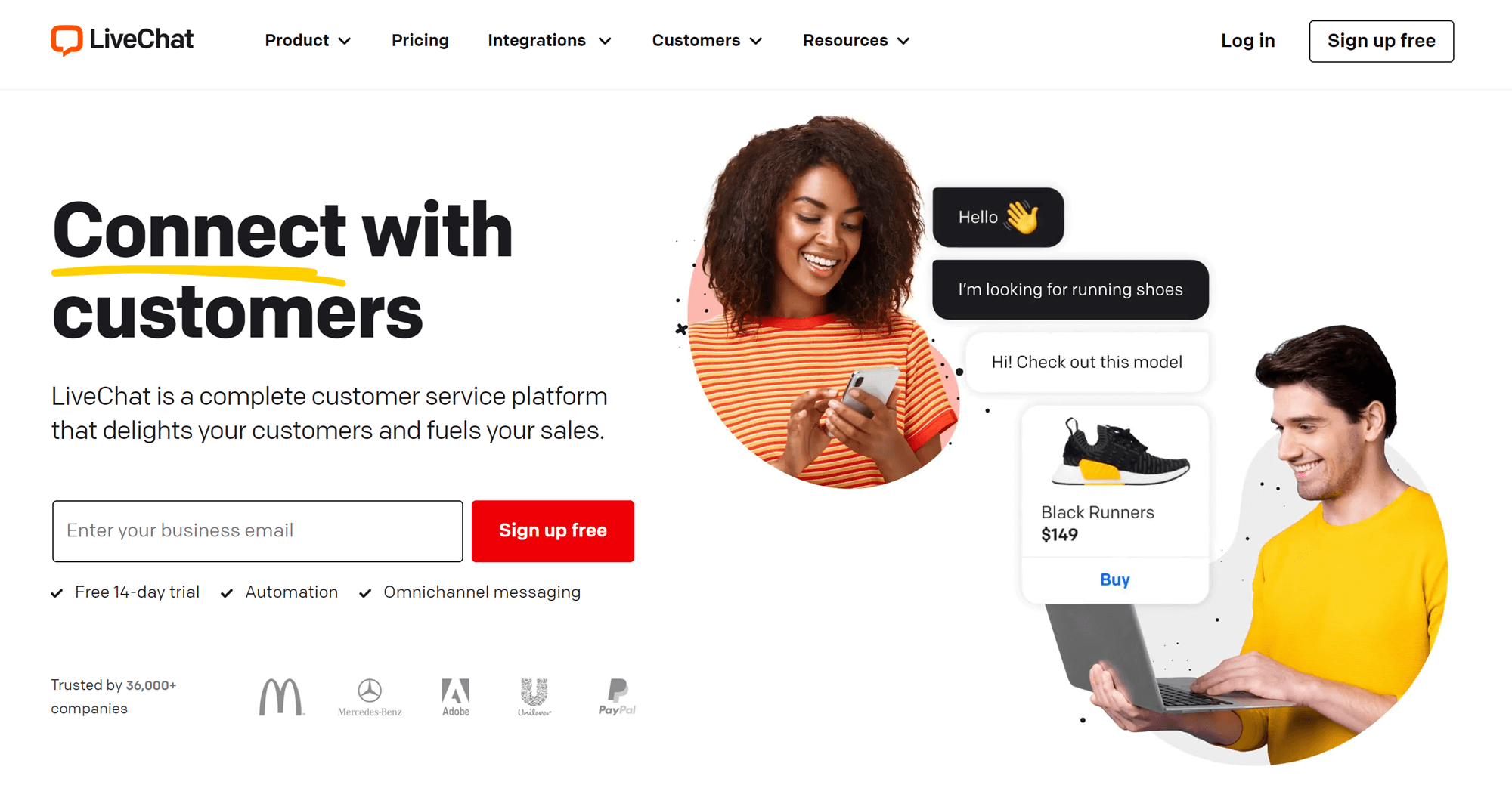 Notable features ⚙️
Over 200 total integrations
Live tracking of traffic on your website
Automated ticket creation for messages you receive while offline
Advanced team management tools
Canned responses
Notable integrations 🔗
Elementor
HelpDesk
ChatBot
WhatsApp Business
Facebook Messenger
Salesforce
Limitations 👎
Limited ability to automate live chats
Limited chatbox customization options
You must connect to ChatBot to automate conversations when you're offline
How it works 🖱️
LiveChat is a robust tool for managing real-time conversations with your website visitors. You can install the LiveChat WordPress plugin, connect it to your LiveChat account, and instantly start tracking visitors to your site. You can then go to the LiveChat Dashboard for an impressive analytics display:
If someone is on your website, LiveChat will notify you and give you the option to open a chat. This gives you the opportunity to be proactive about connecting with potential customers.
If someone attempts to message you while you're offline, LiveChat will automatically turn it into a ticket. You can then respond to it through the LiveChat dashboard or assign it to a team member. You can also connect your email to LiveChat and have messages forwarded to your email.
LiveChat also makes it easy to add agents to your team and split your workflow evenly between team members. More advanced plans even offer scheduling tools and other advanced team management tools.
Another great thing about LiveChat is the Reports area, where you can get more detailed breakdowns on chat engagement, conversions, and more:
Pricing 💳
LiveChat pricing plans start at $20 per agent per month, billed annually.
Overall thoughts 👈
LiveChat makes it easy to build live chat into your business model, with systems to make sure that you can still connect with customers while you're offline.
Notable features ⚙️
Live chat automation
Chatbox customization
Real-time chat reporting
Team management tools
Notable integrations 🔗
Salesforce
Slack
Help Scout
Limitations 👎
Offline messaging is limited
Chatbot is only available via Olark Pro
How it works 🖱️
One thing that immediately makes Olark stand out from other options on this list of the best live chat WordPress plugins is the chatbox design area, where you can adjust the color scheme, button style, and more.
The Olark Dashboard is also highly attractive, with visual representations of Team metrics and Agent activity. You can also see recent transcripts and other key information about your recent chats.
Olark also offers excellent automation options for sending greetings to visitors, connecting them with the right agent, and more.
You can even leave an offline message with a contact form for users to contact you outside of your business hours.
Pricing 💳
Olark has one pricing plan for most businesses, set at $29 per seat per month. You can save 35% by purchasing a two-year plan.
For access to Olark's CoPilot chatbot and other advanced features, you can contact the company to get a custom pricing quote for Olark Pro.
Overall thoughts 👈
Olark's advanced chatbox design allows you to create a branded live chat experience, while the automation allows you to streamline conversations. The reporting is less robust than what other options on this list of the best live chat WordPress plugins offer, but there's still enough to help you understand what makes a chat or an agent successful.
Notable features ⚙️
Ability to manage chats within the WordPress dashboard
Highly customizable chatbox
Rich message types & customer surveys
Sorting tools to separate leads from regular visitors
User registration and login tools
Tools for creating a Support area & knowledgebase
Saved messages
Single-message automations
Chat and agent ratings
Detailed analytics
Easy translation into over 41 languages
Notable integrations 🔗
The only free integration offered by Support Board is integration with WordPress. However, you can pay a small one-time fee to combine Support Board with a variety of services, including:
WooCommerce
ZenDesk
WhatsApp
Facebook Messenger
Slack
Notable limitations 👎
Most integrations are paid add-ons
The number of integration possibilities is somewhat limited
How it works 🖱️
Support Board is incredibly easy to get started with. Simply buy the plugin, install it on your site, and head to the Support Board area in your WordPress dashboard to start chatting. The first time you enter this area, you may also need to log in.
The great thing about Support Board is that you can do everything directly from inside your WordPress dashboard, including:
Manage your chats in the main area.
View information about your visitors, including who's online, so that you can proactively open a chat with them. You can access this area by clicking on the button shaped like a person's head and shoulders.
Control how and when your chat box appears, plus create custom messages for things like welcoming new visitors, asking people to subscribe to your newsletter, and letting people know your business hours when you're offline. These settings can be accessed via the gear-shaped button.
Create automated messages to share with visitors in certain situations. For example, if you have a time-sensitive promotion, you might automate a message promoting it to people who visit your website while the promotion is running. Again, these settings can be managed via the gear-shaped button.
Here's what the chat settings area looks like:
The final area of Support Board is the Reports area, where you can view analytics detailed analytics for conversations, visitors, agents, and more.
Pricing 💳
You can buy Support Board for a one-time fee of $59. This is particularly notable since most of the best live chat WordPress plugins use a monthly or annual subscription model; choosing a one-time payment can allow you to save a lot of money over time.
Unfortunately, you'll also need to buy any integrations you want. These are also available for a one-time fee and cost anywhere from $9 to $29. This can raise your initial cost significantly, but you won't have to worry about ongoing subscription costs, so Support Board can save you money even with paid integrations.
Who this plugin is best for 👈
Support Board is ideal if you want a simple-to-use live chat plugin that allows you to control your live chats directly within the WordPress dashboard. The one-time payment model also makes it a budget-friendly choice for small businesses.
Notable features ⚙️
Fully automated chatbot
Easy-to-use chatbot conversation builder
Permanent free plan
Ticket system for managing queries
Notable integrations 🔗
Facebook Messenger
Instagram
Slack
Pipedrive
Salesforce
Limitations 👎
Limited number of integrations available
Limited ability to customize the chatbox
You'll need to pay for chatbot conversations as an add-on when you outgrow the free plan
How it works 🖱️
Tidio is a robust chat program that allows you to manage live chats with customers and set up chatbots to help customers when you're away from the office. This allows you to answer common questions in a timely manner regardless of when your visitors ask them.
The chatbot conversation maps are highly flexible, allowing you to build pre-made conversations that branch in different directions based on your visitors' inquiries.
In terms of live chat, Tidio tracks all visitors to your website and gives you the option to open a conversation with them at any time. You can also assign conversations to specific agents and turn conversations into tickets when customers need more specific guidance via email.
And you can test it all out using the Tidio chatbox simulation:
Tidio also has an Analytics area where you can view information about individual conversations, conversation trends, and the performance of your team members.
Pricing 💳
Tidio offers a free plan with up to 100 live chat conversations and 50 chatbot conversations per month. When you outgrow this plan, you can upgrade to the Communicator plan for $15.83 per operator per month + $32.50 per month for the chatbot.
Overall thoughts 👈
Tidio offers good tools for handling live chats and managing customer service requests while you're online, but what really makes it stand out in this list of the best live chat WordPress plugins is the built-in chatbot function. The chatbot is easy to use, highly flexible, and quite affordable compared to other chatbot options.
Notable features ⚙️
Free plan
Automated invitations for customers to interact with you
Ability to customize what information you collect about visitors
Chat ratings to help you determine how successful conversations are
Typing insights
Offline messenger mode
Notable integrations 🔗
Facebook
Google Analytics
Zapier
Limitations 👎
Limited ability to customize the chatbox
You must run most integrations through Zapier
How it works 🖱️
Chaport offers a powerful set of tools for communicating with your customers both during office hours and outside of them. This includes an easy-to-use chat area where you can easily manage multiple chats, complete with a visitor information panel:
Another standout feature of Chaport is the Pre-chat form, which you can use to collect information like a name, email, and more about customers before you start chatting.
Chaport also offers a variety of automation options. You can use Auto-Invitations to start conversations when you're online and autoresponders to let people know you're still receiving their messages when you're not.
Users on the Unlimited plan can access even more tools for automation, including an FAQ chatbot that will answer common questions for you. This gives you more time to focus on answering complicated questions and ensures that customers can get answers even when your team is offline.
Last but certainly not least, Chaport offers real-time reporting on conversations, including chat ratings, so you can see how well your team (including chatbots) is performing.
Pricing 💳
Chaport offers a free plan with unlimited chats and websites. Automation and other advanced features are limited to paid plans, which start with the Pro plan at $19 per month for up to four operators.
Overall thoughts 👈
Chaport is one of the best live chat WordPress plugins for businesses on a budget, with a decent free plan and affordable paid plans. Features aren't sacrificed to make it affordable, either; Chaport has some of the best tools around for both live chats and automation.
Notable features ⚙️
Free plan
Unlimited chatbot creation
Apps for Android and iOS
Contact form for gathering leads when you're offline
Tag system for organizing conversations
Notable integrations 🔗
Facebook
Google Analytics
Smartlook
Limitations 👎
Limited integrations
Limited chatbox customization options
How it works 🖱️
Smartsupp is focused on automation from the beginning, asking you to set up your chatbox and then customize a short FAQ:
You can also create unlimited chatbots on any paid plan with the help of an easy-to-use visual editor:
Of course, you can also communicate with customers directly when you're online. The Smartsupp Conversations area makes it easy to view all live and resolved chats and switch between multiple chats as needed. If there are no visitors online, Smartsupp will direct you to set up automation and conduct other marketing tasks.
Smartsupp also offers integration with Smartlook, a tool that takes video recordings of visitors using your site. This can help you identify where people are spending the most time, what areas of your site they have difficulty with, and more.
Pricing 💳
Smartsupp offers a free plan with up to 100 live chats per month. If you want access to automation, however, you'll need to spring for a paid plan starting at $19.50 per month for up to three operators.
Overall thoughts 👈
Smartsupp is easy to use for both managing live conversations and creating automated customer service interactions. The ability to include three operators on the base plan also makes it one of the more affordable options on this list of the best live chat WordPress plugins.
Final thoughts on the best live chat WordPress plugins 🧐
Adding a live chatbox to your site makes it easier to connect with website visitors and turn them into leads or even paying customers.
👉 When choosing a live chat plugin for your website, consider your goals:
Out of the best live chat plugins for WordPress, what sounds best to you? Let us know in the comments section below!
---