About WPShout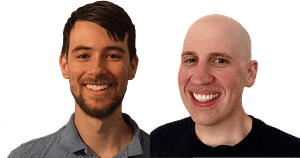 We're Fred Meyer and David Hayes, and we pilot this vessel.
We're WordPress developers, contributors, and enthusiasts, and our goal is to make the world of WordPress accessible to everybody. We publish weekly in-depth WordPress tutorials on the site and to our mailing list, and we link out to cool WordPress stuff elsewhere on the web most weekdays.
Say Hi!
If you'd like to reach us directly with thoughts, suggestions, or questions about WPShout—or WordPress itself—please drop us a line at [email protected].
To keep in touch and be the first to hear when we find something cool, you should follow WPShout on Twitter or find us on Facebook.
Also, you should definitely join our mailing list! We email out once a week (we never spam you) with our own tutorial, plus the WordPress news we've found over the week. It's a small drop of WordPress love in your inbox every week.
What Else We Do
We run a web consultancy called Press Up. We also created Up and Running, a full multimedia guide to the principles of WordPress development that is now in its third edition. Lastly, through a long string of coincidences that began with our content here on WPShout, we became the managers and owners of the online writing course platform Writers.com.
Enjoy your visit!