What Makes A Comment Spam?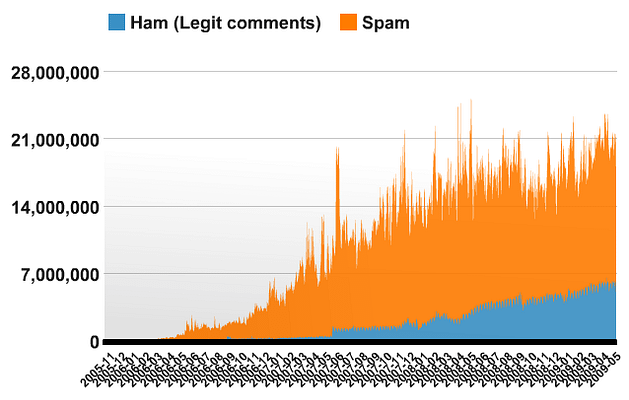 The post I wrote a while ago, 'Dealing with Spam Comments' was meant to cover this, but instead got a bit sidetracked, so I thought I'd cover in this post a simple, but difficult subject: what makes a comment spam.
The obvious thing to do is find out exactly what spam is. Wikipedia to the rescue!
Spam in blogs (also called simply blog spam or comment spam) is a form of spamdexing. It is done by automatically posting random comments or promoting commercial services to blogs, wikis, guestbooks, or other publicly accessible online discussion boards. Any web application that accepts and displays hyperlinks submitted by visitors may be a target.

Adding links that point to the spammer's web site artificially increases the site's search engine ranking. An increased ranking often results in the spammer's commercial site being listed ahead of other sites for certain searches, increasing the number of potential visitors and paying customers.
As this graph from Akismet shows, the amount of spam has exploded in recent years:
So that's spam. But, as we all know, spammers are getting more and more clever, and so are you prepared to sacrifice some of your comment count in return for a spam free blog? Here are two case studies. The first, Smashing Magazine takes the extreme approach: no linking, no keywords, no nothing. The second, CatsWhoCode, has Akismet in use, but Jean is pretty lax about what he lets through (actually, Jean, it'd be good to hear from you personally what your stance is).
Case study: the no nothing blog
Smashing Magazine is one of the most popular websites in the whole world, so it must attract an awful lot of spam. The solution? For them it was a very extreme policy: no linking in your names, use your real name and no link dropping:
rel="nofollow" in use – no link dropping, no keywords or domains as names; do not spam, and do not advertise!
The result? Intelligent comments. Why? Because people aren't given the opportunity to promote their own sites, they leave intelligent, related comments. Don't believe me? See this post's comments.
But! It isn't that easy! For a site with an Alexa rank of c1,600, SM doesn't have too many comments: their policy stops spam, but I think it's also stopping a fair number of comments too, and isn't the whole point of blogging you can share your thoughts with others?
Case study: the normal approach
CatsWhoCode takes the view that a dirty great big chunk of blogs take (probably including Nometech): if it isn't 'traditional' spam (ie free chat here!!!) then let it through. The result: an awful lot of comments, but at the same time, about one in ten are something like this:
Is that spam? This post is going widely from a to b to z, but I hope you get the gist of what I'm trying to say: spammers are getting intelligent. You need to wise up too, and seriously consider which comments you let through, which brings me onto my final question…
How do you class spam?
Everyone loves comments. Chances are if you get a comment saying 'free monies here' and your spam catching system flags it, you'd delete it. But say, you got a comment from someone called 'Free WordPress Tips', saying
Great post. Thanks.
You'd probably let that through, which is the point I'm getting at; have we got to the point where a comment saying 'thanks' must be spam? What if the guy genuinely loved the post? Well that's a post for another day. Well, actually, I already made that post, so that was a post for  21st April.
Anway. How do you class spam? Leave a comment and share it with the world.
Coming soon!
I'm away for a couple of days, so the HTML to WordPress screencast series is going on holiday for a week too. Look out for another killer A to Z post too.
---