Matt Mullenweg's Summertime Update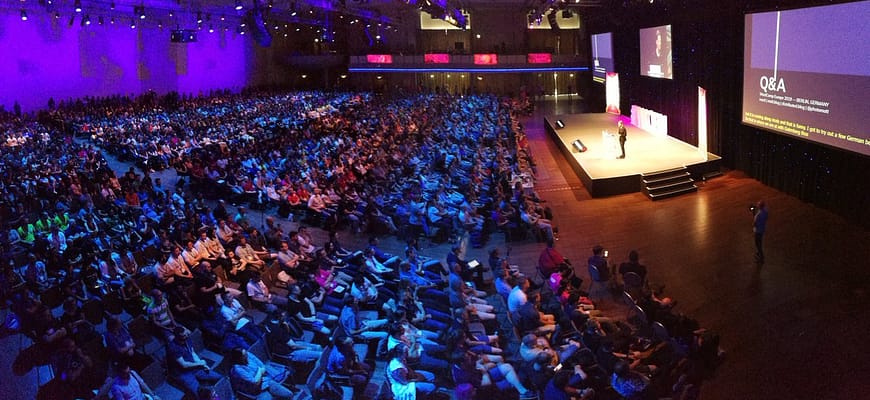 Matt on WordPress at WordCamp Europe.
Matt's Summertime Update was definitely that: an update on what has been happening in WordPress in the last six months, with the focus more or less totally on Gutenberg.
We've heard about four phases of Gutenberg:
The new Block editor, added in WordPress 5.0. This is complete.
Taking the Block editor outside post and page editing. This is in progress now.
Better writing and editing collaboration. This is next.
Core support for multilingual sites. And this is after 3.
We're currently in phase two, and the focus was squarely on what's been happening with phase two. We heard about some interesting plugins, some innovative new concepts, and the progress in Core. Some highlights from the talk and subsequent Q&A:
There'll be a Block Library for installing blocks straight from the editor. If you want a slider but don't have a slider block installed, you'll be able to search "slider", and then install and use a slider block plugin straight from the editor.

This will have a big impact on the block ecosystem: most solutions we've seen so far have been focused on adding block libraries (ie CoBlocks, Atomic Blocks) rather than individual blocks. I think everyone's assumed users will want a single plugin which adds all the blocks they need; if this goes ahead this is a huge incentive to do single-purpose blocks instead. In the long run sounds like we'll stop calling these "block plugins" and just "blocks".

Lots of exciting new blocks are being experimented with, including one which adds a grid where you can build a "snap to grid" layout. This kind of block can fulfil a key part of Gutenberg's promise, which is to make it easy for anyone to make a nice website.
A question about "when there will be" democracy in WordPress' decision making process was answered more or less with Matt saying he had no plans to dramatically change WordPress' governance.
We don't know what the future of themes will be, and it may be up to theme-makers to figure this out. On the current trajectory it seems themes will play a smaller role, so it's up to theme-makers to do something different and keep them highly relevant.
Trac might move to a Git-like infrastructure soon, just not this year.
The REST API slowed Gutenberg down, and Matt didn't like that.
There wasn't a huge amount on Stages 3 and 4, which I found disappointing. At one point Matt mentioned he felt Gutenberg is 10% of the way there to achieving his vision – and that getting all the way there will be 15 to 20 years of work – and he's surely the only person in WordPress who is thinking so far ahead. I think he's best when outlining and then going after a grand vision for the future of the internet, and it was a pity there wasn't more on this.
Matt pretty much solely decides WordPress' direction, and with that comes a responsibility to let the community discuss that direction. I've said before we could have avoided some of the controversy around Gutenberg if the community had been more involved in a discussion about the vision and problems we were aiming to solve at the start. A couple of weeks ago when I spoke to Josh Koenig, co-founder of Pantheon, he described "a lot of the holes in the tapestry of WordPress", and I feel part of the sticking point on that is uncertainty about what WordPress Core will do next. Will the problem you're solving be added into Core? These twice-annual keynotes from Matt are one of the best opportunities we get to hear his vision, and we need to hear his vision for the future!
The audience at WordCamp Europe is always tougher than at WordCamp US, but Matt generally went over well. And indeed, this was called a "Summertime Update" and this was an update, so maybe I'm being too picky. For further coverage, I live tweeted the keynote with some commentary in this thread, WP Tavern has a write-up, and David Bisset did his usual superb job of live tweeting (you'll need to scroll back through his tweets). The photo is from the WordCamp Europe Twitter (I think taken by Val Vesa).
This post first appeared in MasterWP, a weekly newsletter for WordPress professionals.
---