Free Theme: Happy Go Try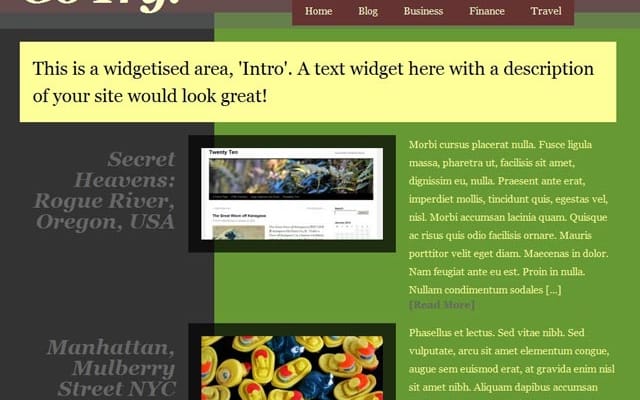 I'm delighted to be able to announce the re-release of Happy Go Try, a free typographic theme for WordPress.
Happy Go Try is the first in a series of simple and free themes I'll be doing for [wp] as part of the new [house].
I originally released a while ago but a) didn't really tell anyone and b) quickly forgot about it. Today marks its resurrection. The design comes from SmashingMagazine – a design by Tyler Dawson. It's called 'Happy Go Try' which is an anagram for Typography, which the theme is based around.
You can see what it looks like either in the demo (below) or in the sidebar (jump out of RSS!).
Features
The whole point of the [house] is that the themes are simple, but Happy Go Try does sport a number of (frankly, standard) features.
1. Thumbnails and images
Thumbnails are handled by the post thumbnail function built into WordPress so no resizing or custom fields necessary. Images in post also get a rather nifty background. Images should be 580px wide maximum in posts (although if they're bigger it still looks fine).
2. Widgets
There are four widget areas: the intro area, footer left and footer right widgets all only support text widgets, but these widgets mustn't have a title. The sidebar widget area can be used as normal.
3. Theme options
There is a fairly simple options page built into Happy Go Try as the original release had one. It's got space for things like Feedburner, ad codes, tracking codes, footer text and crucially, the title — the title must be set in the options page — I didn't want to use the blog title as you've not actually got much room to fit in your title.
Licensing and so forth
Happy Go Try is licensed under the GPL and offered "as is". You may not redistribute Happy Go Try as it is here, please instead link here. (ie once you've made modifications that are distinguishable (at my digression) then you're welcome to redistribute, under the GPL. However, you may not just repackage it for your website).
That essentially means I'll try and keep it updated but I'm not going to guarantee anything. If you want to commission customisation or new features, drop me an email.
Do, of course, let me know what you think by leaving a comment and enjoy!
[button href=http://demo.wpshout.com/?theme=Happy+Go+Try]Test Drive The Theme[/button]  [button href=https://wpshout.com/downloads/happy-go-try.zip]Get Your Own Copy[/button]
---